The Sunset Years of Agnes Sharp (Hardcover)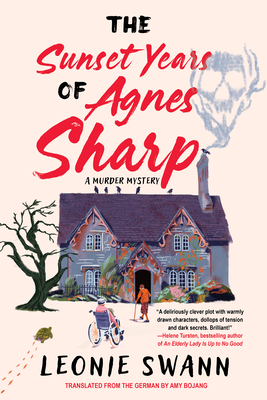 Description
---
A quirky group of seniors attempts to solve one murder while covering up another—with the help of an enterprising tortoise—in this twisty, darkly funny mystery from the author of Three Bags Full.

It has been an eventful morning for Agnes Sharp and the other inhabitants of Sunset Hall, a house share for the old and unruly in the sleepy English countryside. Although they have had some issues (misplaced reading glasses, conflicting culinary tastes, decreasing mobility, and gluttonous grandsons), nothing prepares them for an unexpected visit from a police officer with some shocking news. A body has been discovered next door. Everyone puts on a long face for show, but they are secretly relieved the body in question is not the one they're currently hiding in the shed (sorry, Lillith).

It seems the answer to their little problem with Lillith may have fallen right into their laps. All they have to do is find out who murdered their neighbor, so they can pin Lillith's death on them, thus killing two (old) birds with one stone (cold killer).

With their plan sorted, Agnes and her geriatric gang spring into action. After all, everybody likes a good mystery. Besides, the more suspicion they can cast about, surely the less will land on them. To investigate, they will step out of their comfort zone, into the not-so-idyllic village of Duck End and tangle with sinister bakers, broken stairlifts, inept criminals, the local authorities, and their own dark secrets.
About the Author
---
Leonie Swann grew up near Munich and earned degrees in philosophy, communications, and psychology from Munich University and the Munich School of Philosophy. Her debut novel, Three Bags Full, was published in 2005 and became an instant hit, leading the German bestseller charts for months. It has since been translated into twenty-six languages and won the prestigious Glauser Prize for crime fiction in the debut category, as well as the PETA Award. She has now published six books and lives and works in the English countryside near Cambridge.

Amy Bojang is a translator of German-language literature. She has an MA in Modern and Contemporary German Studies from the University of Nottingham. In 2017, she was selected by the journal New Books in German for their Emerging Translators Programme. She lives in England.
Praise For…
---
Praise for The Sunset Years of Agnes Sharp

A New York Times Editors' Choice
Book Riot Most Anticipated Beach Reads of 2023
A LibraryReads August Bonus Pick

"The Sunset Years of Agnes Sharp, translated from the German by Amy Bojang, operates in its own skewed universe. Fans of the Thursday Murder Club books will find much to like here."
—Sarah Weinman, The New York Times

"A mystery like a gingerbread house, rich and warm and sweet and dark. Fans of Richard Osman's superannuated detectives, welcome to your new club; readers who fell in love with The Maid by Nita Prose, rejoice. This is a splendid, life-affirming book, funny and clever, suspenseful and touching. And like all good novels, it features a tortoise."
—A.J. Finn, New York Times bestselling author of The Woman in the Window

"A deliriously clever plot with warmly drawn characters, dollops of tension and dark secrets. Brilliant!"
—Helene Tursten, bestselling author of An Elderly Lady Is Up to No Good

"A collection of delightfully batty characters, a disdainful tortoise, a wonderful plot and a guaranteed smile on every page."
—Ian Moore, author of Death and Croissants

"Leonie Swann's The Sunset Years of Agnes Sharp is utterly superb. It is as rich and enticing as a perfect cup of cocoa—sweet at first taste, but with something delightfully, deeply, deliciously dark within. A beguiling and unforgettable read."
—Deanna Raybourn, author of Killers of a Certain Age

"Old age isn't for the faint of heart, which makes Agnes Sharp the perfect senior sleuth to take on a killer. Everyone but the trusty tortoise is a suspect in this fast-paced, twisty mystery."
—Nora Page, author of Better Off Read

"The Sunset Years of Agnes Sharp is a lovely novel—a quirky and charming cosy mystery with a thoughtful portrayal of aging."
—Katy Watson, author of The Three Dahlias

"Agnes Sharp is no Miss Marple. She's a gritty curmudgeon with bad hearing and an arthritic hip. Her housemates aren't faring much better, fighting dementia, blindness, mobility issues. And yet, when murder comes to visit, they need to join their resources to solve the crimes (with the help of their tortoise, Hettie). Sounds 'cozy mystery,' right? Well, hang on! Think 'Caffeinated Agatha Christie.' Hold on to Hettie and enjoy the ride!" 
—The Courier

"For fans of amateur, elderly sleuths, translated novels, and quirkiness — it opens with a turtle finding a dead body!"
—BookRiot

"With dark humor and gimlet-eyed descriptions of aging, this is pricklier than most cozies and a lot of fun."
—LibraryReads

"A tasty treat for cozy mystery lovers."
—Infinite Books

"Leonie Swann gives the 'quirky older sleuths' trope a jolt of black comedy in The Sunset Years of Agnes Sharp."
—BookPage

"Swann creates a world so witty and playful that readers may need to keep reminding themselves that there really is a murderer out there, or in here. An antic, moving celebration of life's final chapters." 
—Kirkus Reviews

"Swann wittily conveys the infirmities of old age—memory lapses, vision impairment, hearing problems—alongside her characters' flashes of insight and pluck . . . cozy readers will gladly return to Sunset Hall for future installments."
—Publishers Weekly


Praise for Leonie Swann
 
"An original and clever mystery."
—Carl Hiaasen, New York Times bestselling author of Squeeze Me
 
"Swann produces a clever spin on the ol' whodunit . . . the result: a delightfully offbeat yarn."
—Entertainment Weekly

"Delightfully different . . . The combination of sly humor and naiveté makes this novel a surprising and refreshing read."
—The Boston Globe
 
 "Refreshingly, joyously different."
—The Sunday Telegraph

"Moments of high comedy come thick and fast. . . .This entertaining, lighthearted mystery is told from a refreshingly novel perspective."
—Daily Mail

"Has an inexhaustible, quirky charm."
—Salon
 
"Genuinely odd and affecting."
—The Guardian

"A completely original, sparklingly inventive, cleverly written story . . . [Readers] will find themselves engaged—rooting for the sheep, marveling at the ingenuity of the author, or simply enjoying the madcap story."
—Booklist

"[A] refreshingly original detective story."
—Publishers Weekly