Edith Holler: A Novel (Hardcover)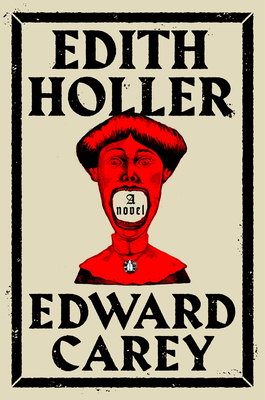 Description
---
NPR BEST BOOK OF THE YEAR

The witty and entrancing story of a young woman trapped in a ramshackle English playhouse—and the mysterious figure who threatens the theater's very survival

The year is 1901. England's beloved queen has died, and her aging son has finally taken the throne. In the eastern city of Norwich, bright and inquisitive young Edith Holler spends her days among the boisterous denizens of the Holler Theatre, warned by her domineering father that the playhouse will literally tumble down if she should ever leave its confines. Fascinated by tales of the city she knows only from afar, she decides to write a play of her own: a stage adaptation of the legend of Mawther Meg, a monstrous figure said to have used the blood of countless children to make the local delicacy known as Beetle Spread. But when her father suddenly announces his engagement to a peculiar, imposing woman named Margaret Unthank, heir to the actual Beetle Spread fortune, Edith scrambles to protect her father, the theatre, and her play—the one thing that's truly hers—from the newcomer's sinister designs.

Teeming with unforgettable characters and illuminated by the author's trademark fantastical illustrations, Edith Holler is a surprisingly modern fable of one young woman's struggle to escape her family's control—and to reveal inconvenient truths about the way children are used.
About the Author
---
Edward Carey is a novelist, visual artist, and playwright. His previous novels include The Swallowed Man (a New York Times Book Review Editors' Choice), Little, Alva & Irva, and Observatory Mansions, and an acclaimed series for young adults, the Iremonger Trilogy. Born in England, he now teaches at the University of Texas in Austin, where he lives with his wife, Elizabeth McCracken, and their family.
Praise For…
---
Advance praise for Edith Holler:

"Edward Carey excels in writing – and drawing! – peculiar characters, and the cast he creates for the macabre and fun Edith Holler is no exception" —NPR

"A fabulous novel. . . . The voice of Edith Holler is distinctive and brilliant. . . . Edward Carey is a brilliant writer." —Bill Goldstein, NBC New York

"Draws on fairy tales and Shakespeare for a dazzling bildungsroman. . . . [and] unquestionably succeeds. This affirms [Edward Carey's] standing as a major literary talent." —Publishers Weekly (starred)

"In ways both witty and dark, the novel brilliantly probes the distinction between drama and real life, audience and performer, actor and character. And the whimsical illustrations, all drawn by Carey himself, are the perfect accompaniment to a story about an art form as visual as it is verbal. A wonderfully strange and quirky tale about the power of penning and performing tales." —Kirkus

"Edith Holler is a masterpiece. Carey's prose teems with wonderfully twisted humor and play, breathing life into the spirits that haunt its gothic framework. It is that special novel that makes you wonder why there aren't more like it. The answer, of course, is that there is just one Edward Carey. Edith Holler is singular—a dark delight from beginning to end." —Erika Swyler, bestselling author of The Book of Speculation and Light from Other Stars

"Edith Holler is that rarest thing, a newly written tale that feels as though it's been discovered behind the stacked stone walls of an abandoned estate. It's eldritch, raucous, blistering, beautiful, and totally indelible."  —Maria Dahvana Headley, New York Times bestselling author of The Mere Wife

"Brilliant and shiver-inducing, Edith Holler is a delightfully macabre achievement, equal parts Charles Dickens and Sweeney Todd. Through Edith's keen eyes we come to know her family theatre and its many denizens—each a masterpiece of oddity—as well as the frightening newcomer who threatens to topple her very world. A bravura performance." —Helene Wecker, New York Times bestselling author of The Golem and the Jinni

"At once delightful and uncanny, familiar and utterly unique, Edith Holler is a triumph from the first page to the last. A master class on how the unbelievable can illustrate unsettling truths about our own world. Brilliant, propulsively readable, and above all, impossible to forget." —Molly Greeley, author of Marvelous and The Heiress

"A raucous romp through the world of early 20th-century theater . . . In ways both witty and dark, the novel brilliantly probes the distinction between drama and real life, audience and performer, actor and character. And the whimsical illustrations, all drawn by Carey himself, are the perfect accompaniment to a story about an art form as visual as it is verbal. A wonderfully strange and quirky tale about the power of penning and performing tales." —Kirkus Reviews


Praise for Little:

"[An] incredible book." —Ann Patchett, author of The Dutch House

"[A] marvelous, weird, and vividly imagined new novel. .  . A fantastic winter tale, a big, patient read full of reversals of fortune and fabulous glimpses of a time not unlike our own when a new technology of likeness brought the giants of media and politics closer than ever. . . . Carey has woven a beautiful parable about the power of that proximity." —John Freeman, Boston Globe
 
"Marie's story . . . is a fascinating thing in itself. But Carey's talent makes her journey a thing of wonder." —Danielle Trussoni, New York Times Book Review
 
"An unmissable book." —Olga Tokarczuk, winner of the Nobel Prize

"I marvel at the achievement of this book. . . . It's about humans, and bodies, and art, and loneliness. . . . I could talk about it forever." —NPR

"A dazzlingly detailed portrait of Paris on the brink of revolution . . . Reminiscent of Dickens, Defoe and Fielding, Little speaks eloquently of the pleasures and perils of art, commerce and identity." —San Francisco Chronicle

Praise for The Swallowed Man:

"Inspired . . . a riff on the entwined themes of fatherhood and creative spark." —The New York Times Book Review

"A strange and tender parable . . . All of Edward Carey's work is profound and delightful." —Max Porter, author of Lanny

"The Swallowed Man stands out among Carey's other works. . . . an existential fairy tale for adults told by an old artist considering the tragedy of life." —The Washington Post

"Richly descriptive and abundantly playful . . . [an] endearing meditation on creation and its power, conveying how much the act adds to our existence." —The Austin Chronicle

"Geppeto, carver of naughty Pinocchio, keeps a haunting journal of his years inside the whale. Bizarre [and] moving." —Margaret Atwood

"Illuminated by Carey's exquisitely textured original illustrations. . . . [It has] the feeling of a book that both exists outside of time and yet lands, unerringly, in the present. . . . And as deliberate as his brushstrokes are, his words are as well."
—Alexander Chee, Lit Hub