Signed Copies from Jilanne Hoffmann
Jilanne Hoffmann is a children's book author with a B.S. in Industrial Engineering and an MFA in Creative Writing. She reviews children's books and shares insights about writing on her website www.jilannehoffmann.com. Jilanne has traveled to the Amazon rainforest highlands in Peru, collected the dust of six continents in her shoes, and plans to see the dust swirl in Africa's Sahel and Sahara Desert before she turns to dust. She lives with her family in San Francisco, where dust from China's Gobi Desert flies by on its way to feed the trees of the High Sierra. You can also find her on Twitter: @Jill_SF and Instagram: @Jilanne2694.
You can preorder a signed copy of her upcoming book River of Dust from us and receive some limited edition swag (details to come). Please specify if your order notes if you would like your signed copy personalized and if so, who it should be personalized to.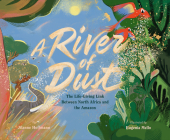 $18.99

ISBN: 9781797211756
Availability: Available for Pre-Order
Published: Chronicle Books - July 18th, 2023
Over and Under the Rainforest meets This Is How We Do It in A River of Dust—a celebration of global interconnectedness with an environmental lens, at a time when we need it most.
 

I am dust,
the dust of North Africa.
I connect continents.
 
The dust of the Sahel—a ribbon of land between
---

$9.99

ISBN: 9780735377509
Availability: At the Store Now
Published: Mudpuppy - January 17th, 2022
Take your family on a camping adventure with the Happy Camper Shaped Board Book from Mudpuppy. Explore snow filled mountains, tide pools, lakes, deserts, forests and more for a fun and entertaining experience for little ones.
---

$9.99

ISBN: 9780735377516
Availability: At the Store Now
Published: Mudpuppy - January 17th, 2023
Uncover something new with the exciting and colorful Honey Bear Hive Shaped Board Book from Mudpuppy.
---