Keto Air Fryer Cookbook 2021: Quick and Easy Air Fryer Recipes for Busy People on Keto Diet (Paperback)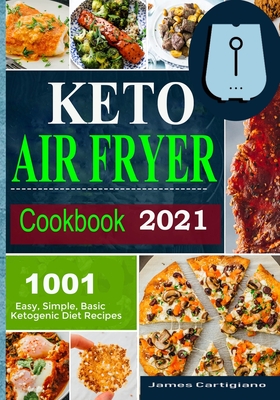 Description
---
Stylish Air Fryer Ideas For Your Keto DietWhat is it that makes air fryers unique?This Book
Inside we put Air Fryer Recipes That Will Make your Eating Healthy Way More Delicious
Looking for a healthier alternative to deep-frying? Meet the air fryer, your new favorite gadget. Check out these
air
-
fryer recipes
for crispy chicken wings, fried pickles, coconut shrimp-and desserts, too
This handy gadget can make pretty much everything, from appetizers to main dishes-and even desserts
600+ recipes―it's an air fry fest featuring Lots of Poultry, Beef, and Pork, Quick Snacks and Side Dishes prepared by Vegetables and Vegetarian air fryer recipes that can be prepared for any meal of the day
A guide to air frying that offers tips for getting started and troubleshooting your air fryer, plus handy charts for guiding timing and temperature
Tantalize every taste―Choose from a wide range of vegetarian, meat, fish, and poultry meals, including variations on your family's favorite recipes that adults and kids will love.
Heart healthy guarantee―This is the only air fryer cookbook that adheres to the low salt, low fat guidelines of the American Heart Association.
Nutritional information―Get more tips on heart-healthy eating, and find out how much salt and fat each recipe saves you.
Maybe you're the one who loves cooking big meals and trying new foods, or maybe it's a family member or roommate. You have your basic small appliances in the kitchen, which are great for common uses. I mean, that air fryer has often been a life saver.
This book is the solution to fulfill your frying appetite.