iPAD 8th GENERATION USER GUIDE: A Complete Step By Step Well Illustrated Instructional Practical Guide For Senior, Pro And Beginners On How To Use New (Paperback)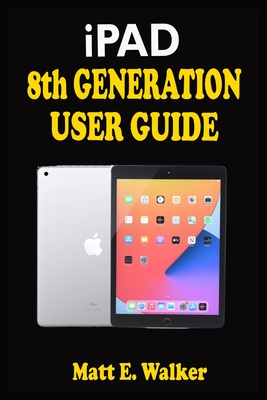 Description
---
A COMPLETE STEP BY STEP WELL ILLUSTRATED INSTRUCTIONAL PRACTICAL GUIDE ON HOW TO USE THE NEW APPLE iPad 10.2-INCH.
Apple recently launched the eighth-generation iPad, which features the powerful A12 Bionic chip that first introduced the Neural Engine into the iPad. The upgrade adds more value to the popular and normal iPad, with a remarkable 10.2-inch Retina display, quality cameras, and all-day battery life.
This book gives a comprehensive step by step guide on how both beginners and seniors can fully master their new iPad 8th generation with pictures to help illustrate the instructions better.
Here is an overview of what you will learn in this book:
Ipad 8th Generation Specifications
How To Set Up Your iPad
How To Switch From Android Device To iPad
How To Backup Your iPad
How To Restore Your iPad Data
How To Reset iPad (Soft Reset)
How To Force Restart iPad
How To Create A New Apple ID
How To Add Money To Apple Pay
How To Send Money From Apple Balance To Bank Account
How To Change Notification Settings
How To Connect USB Or Wireless Mouse
How To Use Assistive Touch
How To Use Quicktake Feature
How To Set Up The Camera App
How To Customize Camera Setting
How To Scan Qr Codes
How To Use Dark-Mode
How To Use Messages
How To Control Shared Location
How To Set Up iCloud Keychain
How To Activate Siri
How To Customize Widgets
How To Switch Apps
How To Use Multitasking
How To Use Gestures With Ipads
How To Share Audio Via Airpods
How To Control The Sound
How To Use Control Center
How To Control With One Touch
How To Set Up Monthly Cycle
How To Use Emoji Feature
How To Set Up Family Sharing
How To View Maps
SCROLL UP AND TAP THE BUY NOW ICON TO GET THE BOOK NOW