Ten Jungle Days: Birds, Beauty and Meditations in the Neotropics (Paperback)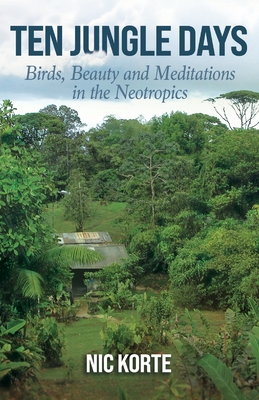 $15.95

Available to Order
(Due to distributor limitations, sales of this book are final - it cannot be returned to us.)
Description
---
Shouldn't we be living in the United States of Colibria? What is a puffbird? How do cold refried beans on crackers comprise a fantasy lunch? Why are 15 rabies shots in the stomach, 35 years ago, of value today? How can pollution from the exploitation of oil and gas reserves be no one's fault? How do you find a coherent philosophy of life consistent with your values and experience?
These are among the themes examined by Nic Korte in this sojourn into a pristine rainforest and into a thoughtful mind. Korte intertwines his personal passions with rare experiences in one of the few remaining truly remote locations in Central America.
During the first day, spent in the urban jungle, Korte sets the stage. He considers why Costa Rica's geography, once considered a detriment, resulted in the most favored country in Central America. He relates this tiny country's mostly peaceful history including the story of the backwards fort that collects bullets, and of one young man's selfless martyrdom that was instrumental in driving out North Americans who wanted to conquer, rule, and establish slavery. He also observes that Costa Rica is urbanizing too much and too quickly, overpowering some of the world's most progressive environmental laws.
Once in the rainforest, Korte follows the lead of the great ornithologist and truth-seeker, Alexander Skutch; one of the most careful observers of wildlife and of humanity the world has seen. Korte highlights, not Skutch's bird study, but his painstaking evaluation of the world's religions. Skutch concluded that the goal of every human should be to achieve harmony by living a life of appreciation and cooperation. Lovely as this philosophy sounds, Skutch saw the world with equanimity as he wrote: "The blue threads of happiness and the red strands of pain are so tightly interwoven in life's fabric that...not even the wisest and the best of us succeed in disentangling them."
Korte describes his personal quest to be as equanimous as Skutch while struggling for meaning and happiness. He applies mature perception and evaluation to childhood memories, such as a Christmas Eve spoiled by family mental illness. He battles his introspection as it contends with his twin desires in the rainforest; to notice everything and to find seldom-seen species such as Thicket and Black-crowned Antpittas. Although year-around residents in well-traveled and intensely birded Costa Rica, these are only glimpsed a few times each year, if at all. Readers participate in the thrill of his hunt for the rare birds and experience exultation comparable to watching a favorite team win a championship. Simultaneously, Korte reflects on how fleeting are feelings of success and whether our planet will be capable of providing the same experiences to future generations.
The natural journey goes beyond birds as we are awakened with blood drawn by the sharp teeth of a jungle mammal. And, what of a strange, purple worm-like amphibian that lives mostly underground yet bears live young, or a coal-black frog with a snout so narrow, one might think it can hardly eat at all? Tamanduas, curassows, nightingale wrens, a friendly tapir and the deadly fer-de-lance all appear in this engaging book. In the closing chapter Korte speaks of death and how curiosity drives his will to live. He summarizes his life beautifully by concluding with a nod to Darwin: "I have recognized and reveled deeply in the presence of unimaginable beauty. I've felt the warmest and truest of emotions, especially the feeling of love. There has been much grandeur, and there is much grandeur yet. I don't want to leave."