The Seas (Paperback)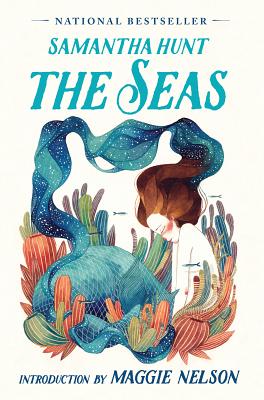 Staff Reviews
---
I first read "The Seas," by Samantha Hunt, in the summer of 2019 and have been haunted by its sparse, stunning prose ever since. Think myth and fantasy meets the horribly human and mundane, a hurricane of young love to the point of neurosis in all its scaly, fleshy wonder. Is our unnamed narrator really a mermaid, as she claims to be, or is she sick? I've come to think that may not be the crux of the story, but rather, what stops you from believing? Prepare to be shipwrecked.
— Claudia
Description
---
National Bestseller
"The Seas took me back to how I felt as a kid, when you're newly falling in love with literature, newly shocked by its capacity to cast a spell..." ?Maggie Nelson (from the Introduction)
A Most Anticipated Book of Summer at BuzzFeed, NYLON, and more. 
Moored in a coastal fishing town so far north that the highways only run south, the unnamed narrator of The Seas is a misfit. She's often the subject of cruel local gossip. Her father, a sailor, walked into the ocean eleven years earlier and never returned, leaving his wife and daughter to keep a forlorn vigil. Surrounded by water and beckoned by the sea, she clings to what her father once told her: that she is a mermaid.
True to myth, she finds herself in hard love with a land-bound man, an Iraq War veteran thirteen years her senior.The mesmerizing, fevered coming-of-age tale that follows will land her in jail. Her otherworldly escape will become the stuff of legend.
With the inventive brilliance and psychological insight that have earned her international acclaim, Samantha Hunt pulls readers into an undertow of impossible love and intoxication, blurring the lines between reality and fairy tale, hope and delusion, sanity and madness.
About the Author
---
Samantha Hunt's The Seas, her debut novel, won a National Book Foundation award for writers under thirty-five. She is also the author of Mr. Splitfoot, Dark, Dark: Stories, and  The Invention of Everything Else. Hunt's writing has been published in The New Yorker, The New York Times, McSweeney's, A Public Space, Tin House, Cabinet, among others.
Praise For…
---
It's hard to imagine that a book so brief could tackle the Iraq war, grief over the loss of a parent, the longing for freedom, an enthrallment with the ocean, loneliness, sexual awakening, faith, and etymology, all in less than 200 pages, but Samantha Hunt has done it, and done it well.
— Chicago Review of Books