Crochet Cafe: Recipes for Amigurumi Crochet Patterns (Paperback)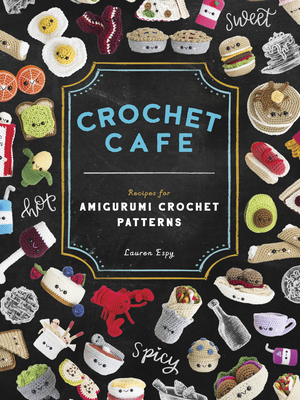 Description
---
Whip up a fresh batch of amigurumi!

Crochet Cafe features over 30 adorable and appetizing food-inspired amigurumi patterns. Lauren Espy, author of 2019's No. 1 best-selling amigurumi book in the United States, Whimsical Stitches, gives you the ingredients and recipes you need to crochet your favorite meals and treats. Easy-to-follow patterns, detailed photographs, and helpful tips make this book perfect for novice and experienced crocheters alike.

Enjoy:

Brunch with eggs benedict or avocado toast
Lunch on the go with a bento box or burrito
A traditional Italian spaghetti dinner, complete with meatballs, red wine, and cannoli

These simple and darling patterns are sure to bring a smile to your face. So, pick up a hook and have fun playing with your food!
About the Author
---
Lauren Espy is the owner and designer behind A Menagerie of Stitches, a shop dedicated to creating crocheted amigurumi. Her love for amigurumi (and yarn!) all started after her grandma gifted her a set of crochet hooks and a book about amigurumi one Christmas. After teaching herself how to crochet back in 2008, Lauren quickly began designing her own patterns and has created a style that is uniquely her own. In 2015 she finally opened her Etsy shop and now sells finished items as well as crochet patterns. Lauren lives in Tennessee with her husband Carl and their two pups, Thunder and Storm.
Praise For…
---
Creativity is literally the opportunity to turn dreams into reality. Lauren has absolutely and successfully accomplished this with her new book. Each project is stunning, adorable and leaves me needing to go make myself a snack. The intentional artwork and graphics, to the precise details and information...this is an ideal book for crocheters full of gifts for all ages!
- Jessica Carey, creator of The Hook Nook, @the.hook.nook

Lauren has really outdone herself with Crochet Café! Every pattern is more playful and fun than the next. Crocheters of every skill level will appreciate her thoughtful instruction, helpful photos, and masterful technique on the topic of amigurumi. I'll have to restrain myself from making each
design!
- Toni Lipsey, creator of TL Yarn Crafts, @tlyarncrafts   

From breakfast to dinner and everything in between, "Crochet Cafe" has you covered for all your adorable food needs. The wide variety of patterns included in this book will ensure that you're able to crochet your favorite foods and those of friends and family members too. With plenty of step-by-step pictures and detailed explanations, you'll be creating your own kitchen full of kawaii food in no time. I'm so impressed with the obvious thought and detail that Lauren has put into each pattern. Whether you're a beginner or an experienced crocheter, you will get so much enjoyment out of this delightful, adorable book - guaranteed!
- Holly Faith Salzman, creator of Storyland Amis, @storyland_amis 

Crochet Cafe is an amigurumi and foodie lover's dream! This beautiful and colourful book is jam-packed full of adorable foods that we all enjoy, divided into 5 main sections: breakfast, lunch, snacks, dinner and dessert. Lauren has such a knack for making ordinary and everyday items cute by creating her whimsical shapes and adding friendly faces.
- Stephanie, creator of All About Ami, @allaboutami