Wyntertide (Rotherweird #2) (Paperback)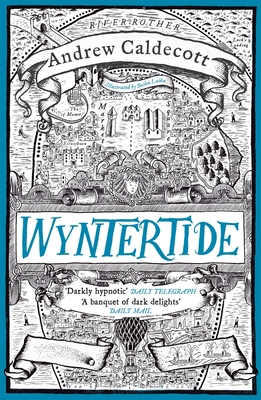 Description
---
Welcome back to Rotherweird, where an ancient plot centuries in the making is about to come to fruition - and this time the forces of darkness might actually win . . .
"Intricate and crisp, witty and solemn. Line by line, silent and adroit, it opens a series of trap-doors in the reader's imagination" --Hilary Mantel, Man Booker Prize-winning author of Wolf Hall

The town of Rotherweird has been independent from the rest of England for four hundred years, to protect a deadly secret.

Sir Veronal Slickstone is dead, his bid to exploit that secret consigned to dust, leaving Rotherweird to resume its abnormal normality after the travails of the summer . . . but someone is playing a very long game.

Disturbing omens multiply: a funeral delivers a cryptic warning; an ancient portrait speaks; the Herald disappears - and democracy threatens the uneasy covenant between town and countryside.

Geryon Wynter's intricate plot, centuries in the making, is on the move.

Everything points to one objective: the resurrection of Rotherweird's dark Elizabethan past - and to one date: the Winter Solstice.

Wynter is coming . . .



About the Author
---
Andrew Caldecott is a practising barrister in media law, fantasy novelist, and occasional playwright. His play Higher than Babel was described as "impressive" by the Financial Times and "a bold debut" by the Independent. Driven by subsequent neglect of his dramatic talents (or by the lack of them), he turned to the fantasy novel and wrote his debut, Rotherweird.
Praise For…
---
"Beautifully handled sequel that cooks up a banquet of dark delights. Once again, we are captivated by the compelling alchemy of plot, place and people: the quirks, the mysteries, the saintliness and the sheer bloody evil"—The Daily Mail

"To his lawyerly eye for detail he adds a conjurer's flourish in Wyntertide, the darkly hypnotic sequel to last year's bestseller Rotherweird . . . Rotherweird, Caldecott's fictional English town, has antecedents in Mervyn Peake's Gormenghast, C S Lewis's Narnia books and, inevitably, a certain bespectacled boy-wizard"—Sunday Telegraph

"Darkly hypnotic"—The Daily Telegraph

"I loved every single thing about it. Wyntertide perfectly continues the journey that began in Rotherweird. Highly recommended"—The Eloquent Page

"Wyntertide builds on all the best parts of its predecessor, introducing the reader to the wider history of Rotherweird, while relishing its small town drama"—SciFiNow

"Even better than the first book . . . Seamlessly structured and reads at a galumphing pace . . . As Wynter's go, this is one cold snap that's very welcome indeed. 10/10"—Starburst

"I'd strongly recommend you to read it, and to keep reading"—Blue Book Balloon

"Fiendishly plotted and carefully crafted"—SFCrowsnest

Praise for Rotherweird
"A strange, twisting tale of dark magic and horrible experimentation...Caldecott uses parallel storylines and mysterious, absurd twists and turns to entertain, painting a tale of strange stones, a patch of starless sky, tiles that transport to other worlds, and plants with unexpected properties. The characters are vivid and complex and make up the larger character of a town that is coping with a growing menace."—Booklist

"Intricate...while the focus might be on the oddball inhabitants, Rotherweird is the true heart and soul of the narrative, a character in its own right."—Publishers Weekly

"One of the most enigmatic books I've ever read...Caldecott's writing style is both atmospheric and tangible."—Novel Lives

"Baroque, Byzantine and beautiful - not to mention bold. An enthralling puzzle picture of a book"— M. R. Carey, bestselling author of The Girl With All The Gifts