Extra Witchy (Fix-It Witches) (Paperback)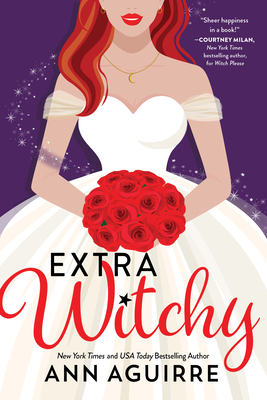 Description
---
The third in an adorable witchy rom-com series by New York Times bestselling author Ann Aguirre, perfect for fans of:
The bonds of sisterhood
A career-driven heroine who thinks she isn't marriage material
A pan hero who struggles with depression
And a shocking family secret
After two failed marriages, Leanne Vanderpol is here for a good time, not for a long time. She only loves the witches in her coven, and she cares more about her career than happily ever after. A difficult past makes her skittish, and she doesn't trust relationships to stick. But when she decides to run for city council instead of wasting her talents cleaning up messes for the mayor's office, she fears her past could be used against her. 
Unless she can find the right husband to shore up her political career…
Trevor Montgomery might have peaked in high school. He was popular then, and in college as well, but he partied away his future, met the wrong person, and everything fell apart. Now he's jobless, dateless, and hopeless, at least according to his toxic family. Then a chance meeting with the redhead of his dreams offers an unexpected ray of light just when he needs it most.
Can a woman who doesn't believe in forever find true love with a man who's stopped believing in anything at all?
About the Author
---
Ann Aguirre is a New York Times and USA Today bestselling author with a degree in English literature. Before she began writing full time, she was a clown, a clerk, a voice actress, and a savior of stray kittens, not necessarily in that order. She grew up in a yellow house across from a cornfield, but now she lives in sunny Mexico with her family and various pets. She likes books, video games, and Korean dramas. Ann writes all kinds of genre fiction, more than fifty novels to date.
Praise For…
---
Readers who loved the spunky, charming witches of St. Claire, introduced in Ann Aguirre's previous Fix-It Witches romances, will be thrilled to have a chance to dive back into her madcap world of magic and romance with Extra Witchy.