A Flat Place: Moving Through Empty Landscapes, Naming Complex Trauma (Paperback)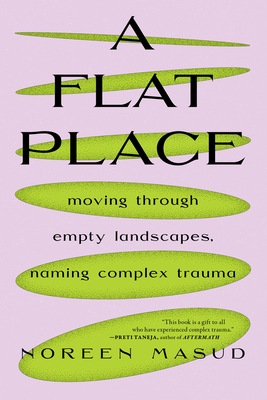 Description
---
"sorrowful, tender...beautiful." – The New York Times Book Review

"...arresting and memorable….Masud both finds a way to comprehend her own story and establishes a strong voice that confirms her as a significant chronicler of personal and national experience." – Financial Times

"Sharply, subtly, and very movingly, Masud thinks with places, seeking as she does to find a way back into, and then out of, the traumas of her early life." - Robert Macfarlane, author of Underland: A Deep Time Journey

A surprising and lyrical journey—part memoir, part nature book—meditating on the meaning of "flatness" and its literary tradition to find ways to understand ourselves and our trauma in one of nature's most undervalued wonders.

For readers of Dr. Gabor Maté's The Myth of Normal, Robert Macfarlane, G. Sebald's Rings of Saturn, Amy Liptrot's The Outrun, and Richard Mabey's Nature Cure

Does the concept of "flat" have an undeservedly bad rap? There are centuries' worth of adoration for rolling hills and dramatic, mountainous landscapes. In contrast, flat landscapes are forgettable and seemingly unworthy of poetic or artistic attention. 

Noreen Masud suffers from complex post-traumatic stress disorder: the product of a profoundly disrupted and unstable childhood. It flattens her emotions, blanks out parts of her memory, and colours her world with anxiety. Undertaking a pilgrimage around Britain's flatlands, seeking solace and belonging, she weaves her impressions of the natural world with poetry, folklore and history, and with recollections of her own early life.

Masud's British-Pakistani heritage makes her a partial outsider in these landscapes: both coloniser and colonised, inheritor and dispossessed. Here violence lies beneath the fantasy of pastoral innocence, and histories of harm are interwoven with nature's power to heal. Here, as in her own family history, are many stories that resist the telling. She pursues these paradoxes fearlessly across the flat, haunted spaces she loves, offering a startlingly strange, vivid and intimate account of the land beneath her feet.

Masud combines memoir, nature writing, and literary reflection to explore what can be drawn from these powerful places, and to understand her own experience of complex trauma and post-traumatic stress, as well as grief and loss. A Flat Place is a book that drives to the heart of what it means to experience place — bodily and psychologically — and the healing properties of literature and landscape.
About the Author
---
Noreen Masud is a Lecturer in Twentieth Century Literature at the University of Bristol, and an AHRC/BBC New Generation Thinker 2020. Her work focuses on the twentieth century, writing about things which, in one way or another, present variously as absurd, unrevealing, embarrassing or useless. These include aphorisms, flatness, puppets, nonsense, leftovers, earworms, footnotes, rhymes, hymns, surprises, folk songs, colors and superstition.
Praise For…
---
The New Yorker's Best Book of 2023

"Sorrowful, tender...beautiful." – The New York Times Book Review

"Between vivid descriptions of their geographical features, Masud confronts her childhood memories, her relationships with others, and the post-colonial histories of both of her homelands." - The New Yorker

"Social media can feel like peering into a monetized confessional booth...[Masud] offers readers a counterpoint to that atmosphere of abundant divulgence...Masud asks readers to listen as they wade into the muck with her, giving voice to lived experiences that might otherwise be considered unrelatable." - Courtney Tenz, The Washington Post

"Striking...an excellent work of literature." – Chicago Review of Books

"...arresting and memorable….Masud both finds a way to comprehend her own story and establishes a strong voice that confirms her as a significant chronicler of personal and national experience." – Financial Times

" In this moving exercise in negative capability, Masud grounds nature writing in a vital impulse: our need to bring suffering of all kinds out into the light." – The Newstatesman

'In this profound and moving book, Noreen Masud shows how what has been overlooked as flat and empty is alive with significance. The writing is not only achingly beautiful, it conveys in its own rhythm how small undulations give nuance and form. We learn how complex trauma gets everywhere, affects everything; who one is, how one is, with whom one is. This is a lovingly crafted work in which stories of violence and memory, colonialism and patriarchy, family and friendship, are as layered as a landscape. A Flat Place also teaches us how the struggle some of us have to be in the world can be how we craft different worlds. It reminds us that there is hope in the smallest of gestures' - Sara Ahmed, author of Living A Feminist Life
 
'Moors, deserts, floodplains, fens alike have too often been effaced to the point of invisibility. Masud makes brilliantly good this lack; A Flat Place fathoms the depths of such landscapes, and their curious abilities to archive and erase, to unsettle and to console. Sharply, subtly, and very movingly, Masud thinks with places, seeking as she does to find a way back into, and then out of, the traumas of her early life.' - Robert Macfarlane, author of Underland: A Deep Time Journey

'In this compelling, compassionate account of the aftermath of complex trauma, Noreen Masud sets out across the flatlands that fascinate her, reckoning with what it means to connect. Stark and beautiful as the terrain it describes, A Flat Place offers a psychogeography of such trauma, in which flat places become, paradoxically, sites of relief. The book is a testament to the power of forging 'strange relationship with strange things.'' - Emily Berry, author of Unexhausted Time

'A moving, lyrical and frank reflection on place, space and the shifting contours of self. This a new kind of migration narrative, one that finds stories in both stillness and movement, in flatness and undulation' – Priyamvada Gopal, author of Insurgent Empire
 
'Haunting and generous, beautifully written, revealing and refusing in the best ways - this book is a gift to all who have experienced complex trauma, all who seek the long view, all who crave solitude as we do community, all who see in flat landscapes the chance to reflect on the depths of the self as it heals' - Preti Taneja, author of Aftermath

'Noreen Masud conjures a sensibility that has eluded most - writers hoodwinked into supposing that what's flat must be empty of significance. But to dwell upon flatness, as Masud does, is to find oneself reoriented. It is to ask who we are and where we are if we no longer take the bait of imagining our lives as a dig or a summit or a horizon' - Devorah Baum, author of Feeling Jewish

'Like the flat places she so values, Masud 'refuses to perform beauty in predictable ways'. Mountains are 'coercive' in their beauty - likewise a culture that expects survivors of trauma to pinpoint a rupture and overcome it. Noreen Masud invites us to think instead on places without desire - places that are forgiving because they are absorbed in being themselves. She uses them as a balm against a personal trauma that never had a climax, no event that could be scaled like a mountain face in the terrain of therapy. A Flat Place cuts new ground, mixing literary criticism, decolonial history, and boldly anti-Romantic 'nature' writing, in searing prose as sad as it is funny, to confront the noninnocence of writing 'nature' and place. This is an important and original interruption of the so-called 'nature cure' - Abi Andrews, author of The Word for Woman is Wilderness
 
'Noreen Masud's a flat place is very much in the Robert Macfarlane tradition of writing about the natural world, and the idea of a book that forgoes peaks and depths is ambitious' – Stuart Kelly, The Scotsman

'Psychologically and politically riveting: Noreen Masud dares to poke the bones of the psyche with idiosyncratic brilliance, while she unwraps clingfilm-racism: airtight, watertight, hard to see and vital to name, that sly racism by which experience is exiled' - Jay Griffiths, author of Kith and Wild

'Marvellous. A radical, affecting testimony to unbroken spaces, histories, and notions of selves' - Eley Williams, author of The Liar's Dictionary

'Noreen Masud conjures a sensibility that has eluded most - writers hoodwinked into supposing that what's flat must be empty of significance. But to dwell upon flatness, as Masud does, is to find oneself reoriented. It is to ask who we are and where we are if we no longer take the bait of imagining our lives as a dig or a summit or a horizon' - Devorah Baum, author of Feeling Jewish

'A beautifully written, important memoir, exploring environmental experience alongside trauma, belonging, prejudice and the self. It's a profound look at how landscapes can help us understand our inner worlds, and how our relationship with nature and place might make new ways of being possible' - Rebecca Tamás, author of Strangers: Essays on the Human and Nonhuman