American Sign Language for Beginners: Learn Signing Essentials in 30 Days (Paperback)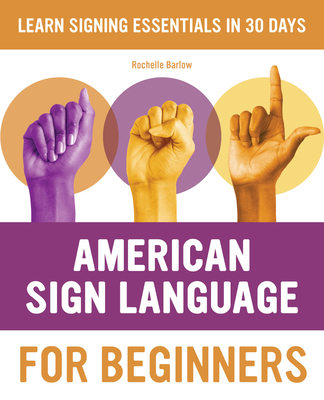 Description
---
A 30-day beginner's guide for learning American Sign Language
There's an easy way to leap right in to learning American Sign Language (ASL).
American Sign Language for Beginners
delivers 30 days of lessons that will help you sign with those in your home, community, and classroom.
From letters and numbers to essential vocabulary and grammar basics, this beginner's guide provides the essentials needed to develop a solid foundation for American Sign Language in the real world. Each daily lesson takes less than 30 minutes to complete and focuses on a single set of vocabulary or ASL grammar. Throughout the course, you'll find key phrases, helpful memory tips, signing practice activities, and insight into deaf culture. Start your ASL masterclass today.
American Sign Language for Beginners
includes:
30 Days of easy ASL—Start off right with an accelerated plan designed to help you begin signing in just one month.
Easy-to-understand instructions—Lessons concentrate on a single idea or subject and include photographs to demonstrate signs.
Everyday phrases—Daily instruction highlights vocabulary you're most likely to need as you explore ASL in your daily life.
Jump-start your learning experience with
American Sign Language for Beginners
!
About the Author
---
ROCHELLE BARLOW learned ASL as a young child. She studied Deaf Education at Utah State University and has worked at the School for the Deaf and Blind in Utah. After teaching ASL for 15 years at local community centers, co-ops, and classrooms, she launched her own online business, ASL Rochelle, where she makes ASL instruction more accessible. She lives in southern Oregon with her six children.
Praise For…
---
"Learning sign language requires clear direction, a supportive mentor, and material that holds your interest. This book offers all three. Pictures and clear descriptions show the shape and movement of each sign. And better yet, once given a concise background on the sign, each sign becomes meaningful and easier to remember. This interesting book will draw you into American Sign Language and pique your interest to continue a journey into deeper knowledge." —Bill Minckler, American Sign Language student

"Rochelle takes away the anxiety and self-doubt of learning ASL. She makes learning fun with enjoyable practice tips and building good language habits. The pictures in the book communicate ASL very clearly. I found the handshapes, grammar, memory tips, and overall book organization very beneficial." —Julie Cabitto, American Sign Language student

"I totally enjoyed this book. Easy to follow and fun! My 11-year-old granddaughter and myself practice the signs while learning together. This is a valuable tool for anyone wanting to learn American Sign Language." —Kitty H.