American Sign Language for Kids: 101 Easy Signs for Nonverbal Communication (Paperback)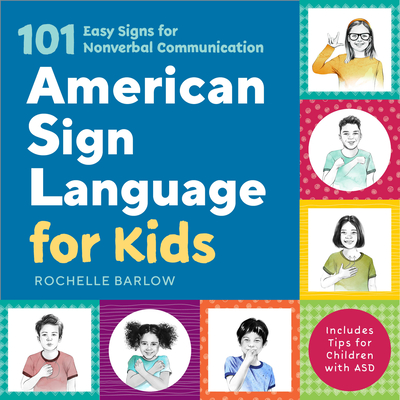 Description
---
The easy way for kids ages 3 to 6 (and parents) to learn American Sign Language
There has never been a better way to start learning American Sign Language. Ideal for parents of nonverbal children or children with communication impairments (ages 3-6),
American Sign Language for Kids
offers a simple way to introduce both of you to ASL.
Build your vocabularies with 101 signs perfect for everyday use, all featuring detailed illustrations, memory tips, and hands-on activities.
American Sign Language for Kids
helps you focus on the types of words you need most with chapters conveniently divided by category. Get chatty with activities that guide you through conversations. You'll be signing together in no time!
American Sign Language for Kids
includes:
101 Helpful signs—From family and feelings to meals and playtime, work with your child to master subjects that will help the two of you connect.
Fun ways to practice—Discover enjoyable activities at the end of each section that make it exciting and engaging to learn signs and start conversing!
Practical guides—Get useful advice for introducing signs to a child with autism, helpful primers on deaf culture, and more.
Discover an effective and meaningful way to deepen communication with your child—
American Sign Language for Kids
shows you the way.
About the Author
---
ROCHELLE BARLOW learned ASL as a young child. She studied Deaf Education at Utah State University and has worked at the School for the Deaf and Blind in Utah. After teaching ASL for 15 years at local community centers, co-ops, and classrooms, she launched her own online business, ASL Rochelle, where she makes ASL instruction more accessible. She lives in southern Oregon with her six children.
Praise For…
---
"Have you ever seen an ASL dictionary book? More than most are useless and difficult to follow. But as a Deaf person, I can tell you that this is an excellent book for anyone of any age... Rochelle Barlow is an excellent ASL teacher who, against all odds, has made ASL incredibly easy to follow and learn by creating this useful, effective book."—Benjamin Featherstone, Co-Founder, CoDeaf

"American Sign Language for Kids is my top recommendation for ASL learning. Why? Because author Rochelle Barlow is so passionate about teaching sign language. She is also an experienced teacher who knows how to connect with kids."—Melanie Wilson, Ph.D., host of The Homeschool Sanity Show and author of Grammar Galaxy language arts curriculum

"This book is great! ...Everything we've read has been extremely helpful. The explanations for how to do each sign are simple and direct, making it easy for parents like us to learn so we can teach our son. The illustrations are also simple enough to follow what movements may need to take place while signing. Overall, this book has not only met our needs in learning how to communicate with our son, but it has made it easy and fun."—Kaitlyn Bybee, Parent

"There is nothing more important for your child than developing the skills and tools to communicate their needs. This book is the answer to that call. Every special needs parent needs this book!"—Victoria Boone, MA, BCBA, The Hamilton Center for Mental & Behavioral Health Services, LLC