The English Grammar Workbook for Grades 6, 7, and 8: 125+ Simple Exercises to Improve Grammar, Punctuation, and Word Usage (English Grammar Workbooks) (Paperback)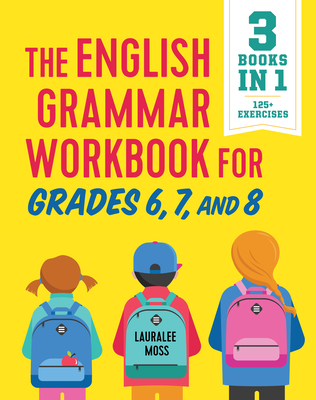 Description
---
Ace your grammar, improve your grades—125 simple exercises for grades 6, 7, and 8
Grammar is an essential part of the sixth, seventh, and eighth grade curriculum. With
The English Grammar Workbook for Grades 6, 7, and 8
, students will build a strong foundation for understanding the concepts of grammar and using them effectively when reading, writing, or speaking.
This grammar workbook offers students the flexibility to learn at their own pace while providing the structure they need to successfully retain essential grammar rules, such as parts of speech, sentence structure, phrases and clauses, active and passive voice, mood, punctuation, writing style, and more.
Inside the pages of this grammar workbook, you'll find:
Basics and building blocks—Students can progress at their own pace and build their knowledge as they go.
Engaging lessons and reviews—Strengthen students' learning and skill retention with simple reviews after every three lessons.
Practical quizzes and answers—Prepare students for real-world grammar usage with helpful quizzes and an easy-to-navigate answer key.
Make learning the fundamental concepts of grammar easy and organized.
About the Author
---
LAURALEE MOSS writes at LanguageArtsClassroom.com and teaches high school students in Morton, IL. A passionate grammar guru, she shares grammar tips on Instagram @elaclassroom. Lauralee holds a bachelor's degree in English Education and a master's degree in Education and Leadership. She lives with her husband and three children in central Illinois.
Praise For…
---
"If you're thinking another dry, technical grammar book, think again! The English Grammar Workbook for Grades 6, 7, and 8 breaks down even the thorniest grammar rules into easy-to-understand language, and has the extra bonus of helpful exercises to reinforce your newfound knowledge."—Chris Lele, Test Prep Expert at Magoosh, author of The Vocabulary Builder Workbook

"With concise explanations and exercises appropriate for middle schoolers, The English Grammar Workbook for Grades 6, 7, and 8 is a great resource for language arts teachers. Its friendly tone makes grammar accessible for everyone."—Lisa McLendon, Coordinator of the Bremner Editing Center at the University of Kansas, author of The Perfect English Grammar Workbook

"The English Grammar Workbook for Grades 6, 7, and 8 introduces students to numerous common grammar concepts and helps them grasp the importance and power of each language element. Because the book is scaffolded, the topics progress from most basic to most complex, building students' confidence with every step. Lauralee Moss's book is perfect for middle school students, for supplementing existing grammar curricula, and for providing a helpful roadmap for educators."—Melissa Kruse, creator of Reading and Writing Haven