Wild Hope: Stories for Lent from the Vanishing (Paperback)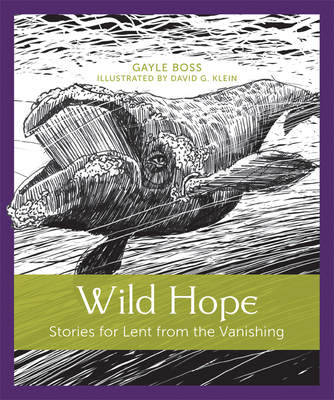 Description
---
From the bestselling author of All Creation Waits — a beautiful book for Lent.

Pangolins and polar bears, olms, lemurs, and leopards. We share this planet with creatures magnificent, delicate, intricate—and now vanishing at a faster rate than at any other time in Earth's history. Spend Lent with twenty-five of these endangered animals. Vivid descriptions of the miracle of each creature and the peril it faces will fill readers with wonder and grief at what these animals suffer on a planet shaped by human choices. Their true and difficult stories will wake readers to a greater compassion—which is what Lent, meaning "springtime," has always been for. These stories also wake in us a wild hope that from all this death and ruin something new could rise. The promise of Lent is that something new will rise. In fact, as these stories attest, our hope, though wild, is not impossible and is already loose in the world.

"Wild Hope is the only book whose table of contents alone gave me chills. Here's the deal: the living world, life on planet Earth, is sacred. Author Gayle Boss yearns to show us that we live in a miracle. And she succeeds in showing us that we are not alone on this holy planet. This is a beautifully elegant, deeply excellent book, pursued by grace on every page, in every stunning illustration." —Carl Safina, ecologist, NYT bestselling author of Beyond Words and Becoming Wild; MacArthur Fellow and founder of The Safina Center
About the Author
---
Gayle Boss writes from West Michigan, where she was born and raised. Her lifelong love of animals and her immersion in spiritual texts and practices have melded in poems and essays that explore how relationships with animals specifically, and an attentive presence in the natural world generally, restore us to our deepest selves. Also the author of Wild Hope: Stories for Lent from the Vanishing, Gayle lives with her husband and Welsh corgi rescue.
David G. Klein
 is an award-winning graphic artist with illustrations for the 
New York Times
, 
Wall Street Journal
, Random House, Tor Books, DC Comics, and Marvel. He is a graphic novelist, printmaker, engraving artist, and co-founder of Brooklyn-based Point Made Animation.
Praise For…
---
"Wild Hope is the only book whose table of contents alone gave me chills. Here's the deal: the living world, life on planet Earth, is sacred. Author Gayle Boss yearns to show us that we live in a miracle. And she succeeds in showing us that we are not alone on this holy planet. This is a beautifully elegant, deeply excellent book, pursued by grace on every page, in every stunning illustration." —Carl Safina, ecologist, NYT bestselling author of Beyond Words and Becoming Wild; MacArthur Fellow and founder of The Safina Center

"Gayle Boss writes vividly of wild, imperiled creatures as expressions of God's own self—and of God's own suffering. What better subject for Lent? Here's a compelling, relevant way to wake out of our small, ego-centered lives into a deeper compassion and to meet there the One who transforms suffering into something unimaginably new. That's the wild hope of all creatures!"
—Richard Rohr, OFM, founder, The Center for Action and Contemplation; author of many books, including The Universal Christ: How a Forgotten Reality Can Change Everything We See, Hope For, and Believe

"This is an overpoweringly beautiful little book, a labor of love that will yield much reflection and I hope much commitment to the work of safeguarding what's left of God's creation."
—Bill McKibben, winner of the Gandhi Prize, the Thomas Merton Prize, and the Right Livelihood Prize; author of more than a dozen books, including The Comforting Whirlwind: God, Job, and the Scale of Creation 

"Wild Hope: Stories for Lent from the Vanishing is a restorative and subversive little book. Gayle Boss subtly guides the reader to reflection through the natural histories of imperiled wild species from around the world. Each account is precise and scientifically rich, but the writing captures you with its creativity, generosity, and loveliness. There is great pain in contemplating our intertwined ecological crises and our culpability for them. This is a field guide for navigating that pain with gracefulness and humility, and for seeking hope among the ruins."
—Timothy R. Van Deelen, Beers-Bascom Professor in Conservation, Department of Forest and Wildlife Ecology, University of Wisconsin - Madison

"At first I wondered how a connection could be made between the Christian season of Lent and the human ravaging of Earth's creatures in the wild. But Gayle Boss's detailed, vivid accounts of an ark-full of wild lives in danger, as our climate changes, convinced and challenged me. In the stories, and with powerful woodcut images, the beauty of living wild beings is revealed to readers as designed and beloved of the Creator."
—Luci Shaw, author, The Thumbprint in the Clay and Eye of the Beholder, Writer in Residence, Regent College

"This book is full of power and poignancy, love and lament. In a world where climate crisis and mass extinction are current, sobering realities, Gayle Boss invites her readers to groan together with all creation in grief at the profound loss of species. Lament is a cry of truth-telling, and in her portraits of these exquisite creatures we hear the necessary and devastating truth of what we are losing. Lament is also a doorway to new life, to the resurrection that Lent promises. In this act of witnessing and cherishing we may be led to possibilities we hadn't even considered before."
—Christine Valters Paintner, PhD, REACE, founder, Abbey of the Arts; author of Dreaming of Stones: Poems and The Soul's Slow Ripening: 12 Celtic Practices for Seeking the Sacred