How to Love the World: Poems of Gratitude and Hope (Paperback)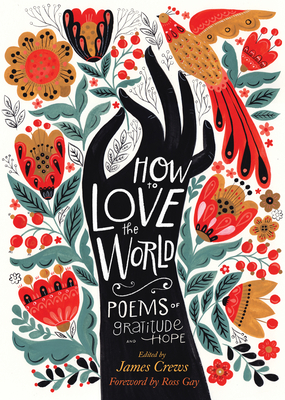 Description
---
An Indie Poetry Bestseller!

What the world needs now – featuring poems from inaugural poet Amanda Gorman, Ross Gay, Tracy K. Smith and more.

More and more people are turning to poetry as an antidote to divisiveness, negativity, anxiety, and the frenetic pace of life. How to Love the World: Poems of Gratitude and Hope offers readers uplifting, deeply felt, and relatable poems by well-known poets from all walks of life and all parts of the US, including inaugural poet Amanda Gorman, Joy Harjo, Naomi Shihab Nye, Ross Gay, Tracy K. Smith, and others. The work of these poets captures the beauty, pleasure, and connection readers hunger for. How to Love the World, which contains new works by Ted Kooser, Mark Nepo, and Jane Hirshfield, invites readers to use poetry as part of their daily gratitude practice to uncover the simple gifts of abundance and joy to be found everywhere. With pauses for stillness and invitations for writing and reflection throughout, as well as reading group questions and topics for discussion in the back, this book can be used to facilitate discussion in a classroom or in any group setting.
About the Author
---
James Crews is the editor of the best-selling anthologies, The Path to Kindness and How to Love the World, which has been featured on NPR's Morning Edition, in the Boston Globe, and the Washington Post. His poems have appeared in the New York Times Magazine, Ploughshares, The New Republic, and The Christian Century. He collaborated with former US poet laureate Ted Kooser on "American Life in Poetry," which reaches millions of readers across the world. Crews holds an MFA in creative writing from the University of Wisconsin–Madison and a PhD in writing and literature from the University of Nebraska–Lincoln. He teaches poetry at the University at Albany and lives with his husband in Shaftsbury, Vermont. 
Ross Gay is the New York Times bestselling author of the essay collections The Book of Delights and Inciting Joy and four books of poetry. His Catalog of Unabashed Gratitude won the National Book Critics Circle Award and the Kingsley Tufts Poetry Award, and was a finalist for the National Book Award; and Be Holding won the 2021 PEN America Jean Stein Book Award. Gay is a founding board member of the Bloomington Community Orchard, a non-profit, free-fruit-for-all food justice and joy project and has received fellowships from Cave Canem, the Bread Loaf Writer's Conference, and the Guggenheim Foundation. He teaches at Indiana University.
Praise For…
---
"How to Love the World is for every one of us who welcomes or misses the fullness of joy and the wholeness of days." — Naomi Shihab Nye, Young People's Poet Laureate, Poetry Foundation

"You'll find lots of poets to love within these pages… this book is exactly what we need in these times – or in any." — Elizabeth Berg, author of I'll Be Seeing You and The Story of Arthur Truluv

"The anthology represents a wide range of poetic voices revealing gratitude as an essential emotion that is simple and complex, all around us but also elusive." — The Boston Globe

"This uplifting collection of poems from masterful poets (Amanda Gorman, Joy Harjo, Naomi Shihab Nye, and more) will not only move you but also remind you that joy can be found during times that feel dark. There are some that are tinted in longing (like "Bus Stop" by Laure-Anne Bosselaar) and some that serve as a beautiful reminder of appreciation ("Thankful For Now" by Todd Davis). The visceral, weighty words from these poets invoke meaning in things that may seem meaningless, pushing us to slow down and reflect." — BuzzFeed

"Readers looking for poetic antidotes to today's chronic anxiety and frenetic news cycle might enjoy turning to this new and highly readable collection. Spend some time with joy and gratitude through deeply felt work from some of poetry's most trusted voices including inaugural poet Amanda Gorman, Joy Harjo, Tracy K. Smith, Ellen Bass, Ted Kooser, Naomi Shihab Nye, Jane Hirschfield, and others often featured in the pages of Orion. Interspersed with invitations to write and reflect, this book is designed for discussion and is classroom-ready." — Orion Magazine