Breathless: A Story of Survival, Hope and Healing (Paperback)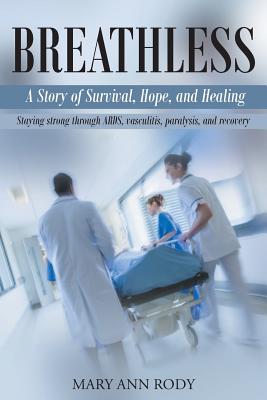 $18.95
Not Available from Us
Description
---
Did you ever wonder what would happen if your entire life changed completely in a single day? If everything you had ever known was turned upside down? Your health, your family, your job, your identity, your future--all changed forever?
Breathless is the story of a woman who faced this terrifying and uncertain fate. Follow along on her journey as she describes her life as a mother, wife, and business executive who is successful, busy, happy, and healthy one day, and the next day is on life support in the ER as her lungs close after collapsing at home. As she endures a month in a medically induced coma while doctors frantically search for a cause, and her chances of survival become dim, her husband, family, and dear friends cover her in prayer beseeching God to spare her life. Miraculously, God spared her life She recovered from the coma and ARDS, only to awaken completely paralyzed.
Life had changed forever, and the battle to return to a sense of normalcy was overwhelming. She was unable to do anything for herself. Doctors anticipated possible recovery of some movement but didn't know for sure what the final outcome would be. After a year of physical therapy, strong determination, endless prayers, and the support of dear friends, she regained her mobility and was able to return to normal activities. The only problem was, life had moved on and her twenty-six-year career was gone.
Thus a new battle began--a battle to discover who she was, and what God's plan was for her life. After struggling for a year to return to her "normal" life, only to find that normal no longer existed, what would life mean now? Who was she? What was normal when normal no longer existed? It was there when all else was gone that she discovered peace, comfort, and identity in Jesus. The author shares her poignant story of battling rejection, depression, and loss of identity by staying strong in hope, faith, and trust in her Lord and Savior Jesus Christ. She shares how God became tangible through His word, leading her to a deeper knowledge of her purpose-driven life in Him.