Where You Left Us (Hardcover)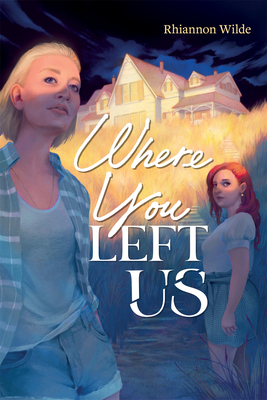 Description
---
This coming-of-age novel for fans of Becky Albertalli and Nina LaCour follows two sisters navigating mental health and relationships as they uncover their family's mysterious past.

Cinnamon and Scarlett are the Prince sisters, the youngest generation of the Mad Princes who earned their reputation in their seaside town when their Great Aunt Sadie went missing without a trace decades ago. Even with the shared history, the sisters can't stand each other. While Scarlett has been away at school, Cinnamon has stayed to work and take care of their rock star father after his latest mental-health struggles.

But now Cinnamon and Scarlett are back under the same roof for the holidays, and things are heating up. Great Aunt Sadie's secrets seem determined to be unearthed. Scarlett's anxiety is coupled with newfound feelings for Cinnamon's ex, Will. And Cinnamon can't ignore her growing attraction to her coworker Daisy.

As each piece of the Prince family's puzzle comes to the fore, Cinnamon and Scarlett are forced to reckon with demons both personal and inherited and find a way through that feels right to each of them in their own way.

With equal parts humor and heart, author Rhiannon Wilde asks how do we honor our past without letting it define us?
About the Author
---
Rhiannon Wilde has been telling stories for as long as she can remember--working as a journalist, a terrible barista, and a high-school English teacher in Brisbane, Australia. Rhiannon's particular interests are caffeine, characters both real and imaginary, and the power of well-strung words to challenge and change us. Her second-person short story inspired by urban Brisbane, You Deserve Nothing, was longlisted for the Queensland Young Writer's Award in 2014. Her debut novel, Henry Hamlet's Heart, won the Queensland Literary Awards Glendower Award for an Emerging Queensland Writer in 2019 and was selected as an Indie Introduce and Kids' Indie Next title in the US.
Praise For…
---
Two sisters grapple with their father's depression and their own mental health struggles in this Australian novel.
Cinnamon and Scarlett Prince are well known in their seaside town—their father's fame from a 1990s band plus their family's rambling home atop Princes Beach being the site of a tragedy from the 1960s that's infamous in local lore mean there is no hiding. Older sister Cinnamon guards her feelings; younger sister Scarlett hoped to leave her anxiety attacks behind when she went to boarding school. Their reunion over the summer following Scarlett's graduation is not a happy one for the estranged sisters. It's made worse by the appearance of their divorced mother, who shows up after Scarlett contacts her once she sees how poorly their dad is doing. Weaving in family secrets, complicated love interests, and realistic depictions of the sisters' feelings and internal musings, this novel flavored with gothic romance and mixed with the often funny, self-effacing narrative voices of the girls packs a lot in. The tender awkwardness of both of their burgeoning relationships—Cinnamon's with her co-worker Daisy and Scarlett's with Will, Cinnamon's ex-boyfriend—is sweet and swoonworthy. The family mystery that runs as an undercurrent throughout feels a little tacked on in places but wraps up nicely in the auspicious ending. The sisters are white; Cinnamon is bisexual, as is biracial Daisy, who is Chinese and white.
A poignant, engaging coming-of-age story.

—Kirkus Reviews