The Illustrated Herbiary: Guidance and Rituals from 36 Bewitching Botanicals (Hardcover)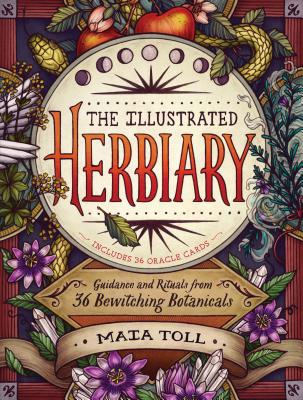 Description
---
2018 INDIES Winner Gold — Body, Mind, Spirit (Adult Nonfiction)
Nautilus Book Awards Gold Winner

Rosemary is for remembrance; sage is for wisdom. Would meditating on the starflower help heal you? Does the spirit of sweet violet have something to offer you today? Contemporary herbalist Maia Toll, author of The Illustrated Bestiary and The Illustrated Crystallary, profiles the mystical, magical, bewitching personalities of 36 powerful herbs, fruits, and flowers in this stunning volume. The book includes a deck of 36 beautifully illustrated oracle cards — one for each plant — and ideas for readings and rituals to help you access your intuition, navigate each day's joys and problems, and tap into each plant's unique powers for healing, guidance, and wisdom.

Also available: The Illustrated Herbiary Collectible Box Set and The Illustrated Bestiary Collectible Box Set.
About the Author
---
Maia Toll is the author of The Wild Wisdom series which includes The Illustrated Herbiary, The Illustrated Bestiary, The Illustrated Crystallary, Maia Toll's Wild Wisdom Companion, and oracle card decks, box sets, and puzzles. Toll apprenticed with a traditional healer in Ireland, spending extensive time studying the growing cycles of plants, the alchemy of medicine making, and the psycho-spiritual aspects of healing—and studied at The University of Michigan and New York University. She leads the annual Witch Camp retreat, and is co-owner of the retail store Herbiary in Asheville, NC. You can find her online at maiatoll.com. 
Kate O'Hara is a freelance illustrator currently based in Reno, Nevada. She received a BFA in Illustration from the University of the Arts in Philadelphia, in 2014. Her work combines intricate nature drawings with decorative hand-lettering and rich color schemes. 
Praise For…
---
"This book doesn't tell a story in the traditional sense, but it tells a story about the world around you, the beauty of nature, and how you can find that same beauty inside yourself." – Mugglenet Review

"In this delightful debut, Toll relies on her imagination to spin a fun botanical mythology. O'Hara's bright, bold illustrations—which introduce each entry and are also included as a divination deck—will appeal to readers with strong lines and a sense of glowing from their centers, a boldness that carries through to the more representational sketches of plants that follow. It will appeal to those looking for fun new ways of considering plants." — Publishers Weekly

"This book is enchanting, wise, engaging, and entertaining! Filled with magic, myth, and tantalizing bits of wisdom, The Illustrated Herbiary may just be one of the most delightful and original herbals written, and definitely one of the most beautifully and lavishly illustrated. Don't expect to learn a lot of scientific facts about herbs in this whimsical 'herbiary,' but be prepared to find your sense of wonder kindled and your imagination sparked as you connect in a most profound and playful relationship with the green world around you." — Rosemary Gladstar, herbal educator, activist, and best-selling author

"Opens us to the plant world and ancient teachings from those who live close to the earth." — Oriah Mountain Dreamer, author of The Invitation

"Part oracle, part kitchen-conversation with a beloved friend, this book is a treasure that will open your awareness to the plant world like never before." — Asia Suler, founder One Willow Apothecaries

"Who knew that plants had such a powerful language and could speak to the core of our soul? The rituals are deliciously simple and the accompanying oracle cards are a delight." — Brigit Esselmont, author, Everyday Tarot founder of Biddy Tarot

"Every page blooms with deep-rooted plant wisdom."— Rosalee de la Forêt, author, Alchemy of Herbs: Transform Everyday Ingredients into Foods and Remedies that Heal

"It takes a special ear and heart and mind to translate nature's wisdom, and Maia Toll does it with staggering beauty. The messages of healing and renewal here, for the earth and human, will leave you smiling and spellbound." — Linda Sivertsen, author, Generation Green, host of the Beautiful Writers Podcast

"Rife with wit and wisdom about the more ethereal aspects of 36 botanicals, The Illustrated Herbiary invites readers to enter into an ever-deeper relationship with the plant allies we share this Earth with." — Ashley English, author of the "Homemade Living" Series

"Beautifully written, vibrantly illustrated and a seamless blend of physical observations and spiritual sagacity. This herbal is not primarily about healing your body; it is about how plants can help you heal your life." — Robin Rose Bennett, herbalist and author of The Gift of Healing Herbs and Healing Magic- A Green Witch Guidebook to Conscious Living

"This is an important book full of kindness, old ways made new and practical magic. Maia is a voice for the plants she so lovingly shares with us, and she makes their healing energy and wisdom accessible to all." — Nicole Cody, award winning blogger and metaphysical mentor

"Maia's book is beautiful and informative and sassy.  It is a delicious introduction for the new herbalist and a strong addition to any herbal, gardening or esoteric library.  You should own this book."  — H. Byron Ballard, folklorist, author Earth Works

"This book doesn't tell a story in the traditional sense, but it tells a story about the world around you, the beauty of nature, and how you can find that same beauty inside yourself." – Mugglenet Review

"In this delightful debut, Toll relies on her imagination to spin a fun botanical mythology. O'Hara's bright, bold illustrations—which introduce each entry and are also included as a divination deck—will appeal to readers with strong lines and a sense of glowing from their centers, a boldness that carries through to the more representational sketches of plants that follow. It will appeal to those looking for fun new ways of considering plants." — Publishers Weekly

"This book is enchanting, wise, engaging, and entertaining! Filled with magic, myth, and tantalizing bits of wisdom, The Illustrated Herbiary may just be one of the most delightful and original herbals written, and definitely one of the most beautifully and lavishly illustrated. Don't expect to learn a lot of scientific facts about herbs in this whimsical 'herbiary,' but be prepared to find your sense of wonder kindled and your imagination sparked as you connect in a most profound and playful relationship with the green world around you." — Rosemary Gladstar, herbal educator, activist, and best-selling author

"Opens us to the plant world and ancient teachings from those who live close to the earth." — Oriah Mountain Dreamer, author of The Invitation

"Part oracle, part kitchen-conversation with a beloved friend, this book is a treasure that will open your awareness to the plant world like never before." — Asia Suler, founder One Willow Apothecaries

"Who knew that plants had such a powerful language and could speak to the core of our soul? The rituals are deliciously simple and the accompanying oracle cards are a delight." — Brigit Esselmont, author, Everyday Tarot founder of Biddy Tarot

"Every page blooms with deep-rooted plant wisdom."— Rosalee de la Forêt, author, Alchemy of Herbs: Transform Everyday Ingredients into Foods and Remedies that Heal

"It takes a special ear and heart and mind to translate nature's wisdom, and Maia Toll does it with staggering beauty. The messages of healing and renewal here, for the earth and human, will leave you smiling and spellbound." — Linda Sivertsen, author, Generation Green, host of the Beautiful Writers Podcast

"Rife with wit and wisdom about the more ethereal aspects of 36 botanicals, The Illustrated Herbiary invites readers to enter into an ever-deeper relationship with the plant allies we share this Earth with." — Ashley English, author of the "Homemade Living" Series

"Beautifully written, vibrantly illustrated and a seamless blend of physical observations and spiritual sagacity. This herbal is not primarily about healing your body; it is about how plants can help you heal your life." — Robin Rose Bennett, herbalist and author of The Gift of Healing Herbs and Healing Magic- A Green Witch Guidebook to Conscious Living

"This is an important book full of kindness, old ways made new and practical magic. Maia is a voice for the plants she so lovingly shares with us, and she makes their healing energy and wisdom accessible to all." — Nicole Cody, award winning blogger and metaphysical mentor

"Maia's book is beautiful and informative and sassy.  It is a delicious introduction for the new herbalist and a strong addition to any herbal, gardening or esoteric library.  You should own this book."  — H. Byron Ballard, folklorist, author Earth Works