Did Muhammad Exist?: An Inquiry into Islam's Obscure Origins (Paperback)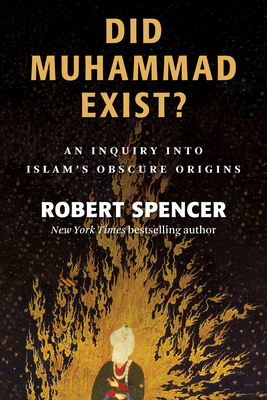 $18.00
Email or call for price.
Description
---
Everything you thought you knew about Islam is about to change
 
This stunning book uncovers provocative evidence that forces us to ask: Did Muhammad, Islam's founding prophet, even exist?
 
It is a question that few have thought—or dared—to ask. But the widely accepted story of Islam's origins begins to crumble on close examination.
 
InDid Muhammad Exist? bestselling author Robert Spencer brings to early Islam the same level of probing historical criticism scholars have long applied to Christianity and Judaism. Meticulously examining historical records, archaeological findings, and pioneering new scholarship, Spencer challenges the most fundamental assumptions about Islam's origins—raising questions with profound implications for our world today.
 
About the Author
---
Robert Spencer is the author of several critically acclaimed books about Islam, including the New York Times bestsellers The Truth about Muhammad and The Politically Incorrect Guide to Islam (and the Crusades). He is a columnist for FrontPage Magazine and the director of Jihad Watch, a program of the David Horowitz Freedom Center. Spencer holds a master's degree in religious studies from the University of North Carolina at Chapel Hill and has been studying Islamic theology, law, and history in depth for more than three decades.
Praise For…
---
"Concerted detective work of a scholarly nature. [Spencer's] book is no polemic. It is a serious quest for facts."—Washington Times

"Spencer's careful, detailed, well-reasoned survey and analysis of the historical evidence offer strong evidence that Muhammad and Islam itself were post facto creations of Arab conquerors. . . . [A] brave book." —FrontPage Magazine

"For too long, the topic of Islamic historiography has been confined to highly specialized academia. . . . An accessible primer on the subject as we have here is most welcome." —American Spectator

 "Impeccably researched . . . Thanks to this book, skepticism regarding what we can know about Muhammad must now and forever be taken seriously." —Ibn Warraq, editor of What the Koran Really Says
 

"This will send shockwaves through Islamic communities."  —The Blaze

"A well-written, sober, and clear account." —National Review Online

"A super detective service for the West . . . Spencer leaves few rocks unturned in his search for the truth about Islam and Muhammad." —Capitalism Magazine