Modern Welding (Hardcover)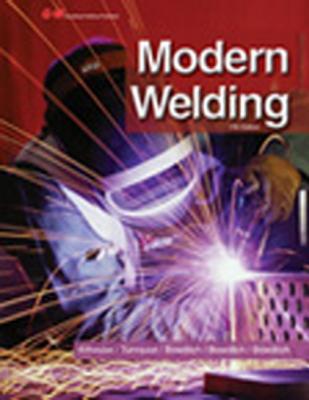 Description
---
Modern Welding is a comprehensive text that has long been the standard for teaching the theory, fundamentals, equipment, and techniques of welding technology. This text provides thorough coverage of common welding and cutting processes, including gas tungsten arc welding, gas metal arc welding, shielded metal arc welding, oxyfuel gas welding and cutting, plasma arc cutting, and resistance welding. The text also includes extensive instruction in welding symbol interpretation, weld testing and inspection, and employment in the welding field.
Prepares students for AWS SENSE Level 1--Entry Welder certification.
Places strong emphasis on all aspects of safety, including respiratory protection.
Is organized so chapters can be assigned sequentially or in a custom order to match course curriculum.
Includes a chapter detailing underwater cutting and welding equipment and techniques.
About the Author
---
William A. Bowditch has an extensive teaching and welding background. He has been a teacher, department head, and supervisor of special needs and vocational programs. In addition to his formal college training in preparation for teaching, Bill has taken several specialized courses in industry, such as the Hobart Welding School and American Welding Society courses. He is a member of the Association for Career and Technical Education and a life member of the American Welding Society. As a coauthor of Modern Welding, he has guided this Goodheart-Willcox book through many revisions to keep it up to date and technically correct in order to maintain its value as an authoritative welding text. He is also a coauthor of Welding Technology Fundamentals.Kevin E. Bowditch is a welding engineer specialist for Subaru of Indiana Automotive Inc. His welding experience includes working for two automotive firms, two aerospace firms, a construction company (building nuclear plants), and a precision sheet metal firm. While working for one aerospace firm, Kevin designed resistance welding and soldering equipment, special equipment for custom applications, and worked to develop correct welding and soldering schedules for customers. He has a Bachelor's degree in welding engineering from The Ohio State University and has attended specialized conferences and courses sponsored by the American Welding Society, American Society of Mechanical Engineers, and American National Standards Institute. Kevin joined his father as a coauthor of Modern Welding, beginning with the 1984 edition, and has been a coauthor of Welding Technology Fundamentals since its first edition was published in 1991.Mark A. Bowditch joined the Bowditch team of welding authors in 1998, when he co-authored Oxyfuel Gas Welding with his brother Kevin. He has more than ten years' experience as an educator, holds both bachelor's and master's degrees, and has taken classes at the Hobart Welding School and the University of Hawaii's HCC welding program. He is also a co-author of Welding Technology Fundamentals with his brother and father.