Thanksgiving: The Holiday at the Heart of the American Experience (Hardcover)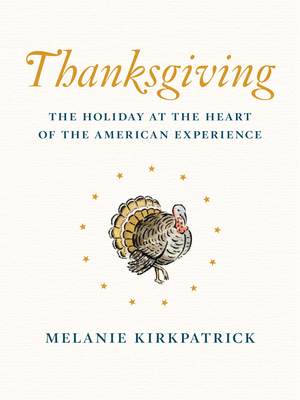 Description
---
We all know the story of Thanksgiving. Or do we? This uniquely American holiday has a rich and little-known history beyond the famous Pilgrim feast of 1621.
Melanie Kirkpatrick journeys through four centuries to craft a vivid portrait of our nation's best-loved tradition in
Thanksgiving: The Holiday at the Heart of the American Experience
. Drawing on newspaper accounts, official documents, private correspondence, and cookbooks, she illuminates what the holiday has meant to generations of Americans. Presidents play key parts: Washington proclaimed our first national day of Thanksgiving amid controversy over his constitutional power to do so. Lincoln aimed to heal a fractured nation when he called for all Americans to mark a Thanksgiving Day. FDR sparked a debate on states' rights by changing the traditional date of the holiday. The story also includes the evolution of Thanksgiving dinner, how football became part of the celebration, and how Native Americans view the holiday. While the rites and rituals have evolved, the essence of Thanksgiving remains the same: family and friends feasting together in a spirit of hospitality and gratitude. Kirkpatrick's exploration of America's oldest tradition offers a fascinating look into the meaning of the holiday we celebrate on the fourth Thursday of November. With Readings for Thanksgiving Day and historic Recipes & Bills of Fare.
About the Author
---
Melanie Kirkpatrick is a senior fellow at the Hudson Institute and a former deputy editor of the Wall Street Journal editorial page. She is the author of Lady Editor: Sarah Josepha Hale and the Making of the Modern American Woman, and Escape from North Korea: The Untold Story of Asia's Underground Railroad.