Alphabet Trains (Paperback)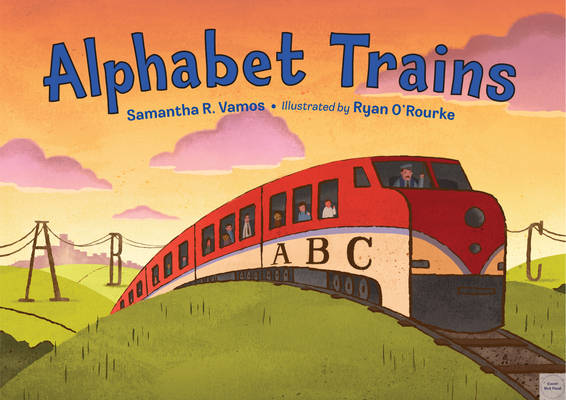 Description
---
All aboard for a train ride through the alphabet! Whether chug-chug-chugging up a mountainside in an Incline train or zipping at super speed in a Bullet train, trains will get you where you need to be—A to Z!

There is a train—some familiar and some unusual—for every letter of the alphabet. Trains are used all over the world for carrying people and cargo from place to place. With a bouncy rhyming text, and clever illustrations full of visual cues, young readers will love learning all about trains.

A companion to the Children's Book Award nominated Alphabet Trucks!

· CCBC Choices 2016: Annual best-of-the-year list of the Cooperative Children's Book Center.
About the Author
---
Samantha R. Vamos is the author of The Cazuela That the Farm Maiden Stirred, a Pura Belpré Illustrator Honor Book, Alphabet Trucks, and Before You Were Here, Mi Amor. Samantha lives near Seattle, Washington.

For many years Ryan O'Rourke's illustrations have appeared in galleries, newspapers, and magazines, including a weekly illustration for the Boston Globe Sunday Magazine. One Big Rain marks Ryan's foray into children's picture books. He makes his home in Connecticut.
Praise For…
---
A cheerful rhyming text and painterly illustrations created in Adobe Photoshop offer young readers a different train for each letter of the alphabet. The simple text is straightforward without letting the rhyme become cloying: "G is for Glacier Express,/a scenic, alpine glide./H is for Hurricane Turn./Wave a flag to catch a ride." Each train is featured on its own page, allowing the page turns to reveal the next type of train. A spread ends the book by giving factual information for each of the trains depicted, further enhancing the book's appeal to train enthusiasts. VERDICT Pair this with Donald Crews's Freight Train (Greenwillow,1978) and Margaret Wise Brown's Two Little Trains (HarperCollins, 2001) illustrated by Leo and Diane Dillon, for a high-speed storytime.
-School Library Journal


In a companion to 2013's Alphabet Trucks, Vamos and O'Rourke introduce 26 trains as they proceed from A to Z. They make room for general categories like bullet trains and coal trains, as well as location-specific conveyances—like the Xplorer of New South Wales, Australia, and the Q train of New York City's subway system, taking care of a couple tricky letters in the process. Vamos's rhymes are as sturdy as the trains she discusses ("I is for incline train,/ a steep, uphill track./ J is for Jupiter,/ with a wide balloon stack"), while O'Rourke sneaks numerous upper-and lower-case letters into his cheerful digital illustrations, which all but beg to be pointed out by kids as the pages turn.
-Publishers Weekly