Indestructibles: Bebé, vamos a comer! / Baby, Let's Eat!: Chew Proof · Rip Proof · Nontoxic · 100% Washable (Book for Babies, Newborn Books, Safe to Chew) (Paperback)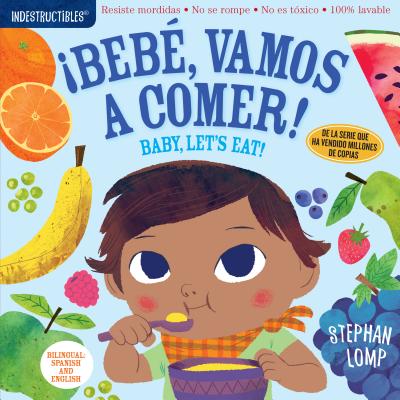 Description
---
Books babies can really sink their gums into! Now in bilingual English and Spanish!

INDESTRUCTIBLES are built for the way babies "read": with their hands and mouths. INDESTRUCTIBLES won't rip or tear and are 100% washable. They're made for baby to hold, grab, chew, pull, and bend.

What green vegetable looks like a tree? Broccoli!
Can you find a fruit that's small and yellow? Lemon!
Can you pick out two berries so red and sweet? Raspberry and strawberry!

Explore a rainbow of delicious foods in a book that's INDESTRUCTIBLE. INDESTRUCTIBLES are printed on lightweight, nontoxic paper material, easy to clean (even dishwasher safe), and 100% chew, rip, bend, and drool proof. 
 
About the Author
---
Stephan Lomp has been writing and illustrating books with publishers in Germany, the UK, France, Spain, and the United States since 1996. He lives with his family in Düsseldorf, Germany. 
Amy Pixton, a mother of triplets, created Indestructibles after bits of traditional board books found their way into her babies' mouths.  Amy lives in Kansas City with her husband and their three children.
Praise For…
---
"While mom and dad might love the closeness of story time, they surely don't love the ripped pages that come from reading to a curious infant. These tear-, bite-, and spit-proof books have the slimness of a paperback and the durability of a board book." 
–RealSimple