A Woman Looking at Men Looking at Women: Essays on Art, Sex, and the Mind (Paperback)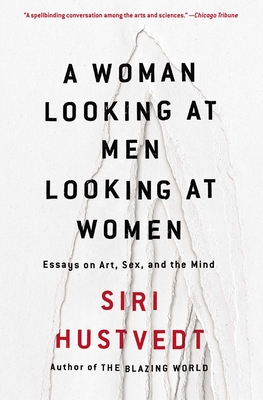 Description
---
A compelling, radical, "richly explored" (The New York Times Book Review), and "insightful" (Vanity Fair) collection of essays on art, feminism, neuroscience, psychology, and philosophy from prize-winning novelist Siri Hustvedt, the acclaimed author of The Blazing World and What I Loved.

In a trilogy of works brought together in a single volume, Siri Hustvedt demonstrates the striking range and depth of her knowledge in both the humanities and the sciences. Armed with passionate curiosity, a sense of humor, and insights from many disciplines she repeatedly upends received ideas and cultural truisms.

"A Woman Looking at Men Looking at Women" (which provided the title of this book) examines particular artworks but also human perception itself, including the biases that influence how we judge art, literature, and the world. Picasso, de Kooning, Louise Bourgeois, Anselm Kiefer, Susan Sontag, Robert Mapplethorpe, and Karl Ove Knausgaard all come under Hustvedt's intense scrutiny. "The Delusions of Certainty" exposes how the age-old, unresolved mind-body problem has shaped and often distorted and confused contemporary thought in neuroscience, psychiatry, genetics, artificial intelligence, and evolutionary psychology. "What Are We? Lectures on the Human Condition" includes a powerful reading of Kierkegaard, a trenchant analysis of suicide, and penetrating reflections on the mysteries of hysteria, synesthesia, memory and space, and the philosophical dilemmas of fiction.

A Woman Looking at Men Looking at Women is an "erudite" (Booklist), "wide-ranging, irreverent, and absorbing meditation on thinking, knowing, and being" (Kirkus Reviews, starred review).
About the Author
---
Siri Hustvedt is a novelist and scholar and is the author of a book of poetry, seven novels, four collections of essays, and a work of nonfiction. She has a PhD in English literature from Columbia University and is a lecturer in Psychiatry at Weill Cornell Medical College. Her scholarly work is interdisciplinary, and she has published papers in various academic and scientific journals. She is the recipient of numerous awards, including The International Gabarron Prize for Thought and Humanities, The Los Angeles Book Prize for Fiction for The Blazing World, which was also longlisted for the Man Booker Prize. In 2019, she won an Award for Literature from The American Academy of Arts and Letters, the European Essay Prize (Charles Veillon) for The Delusions of Certainty, a book-length essay on the mind/body problem, and the prestigious Princess of Asturias Award for Literature in Spain. She lives in Brooklyn, New York.