National Geographic Traveler: Panama, 3rd Edition (Paperback)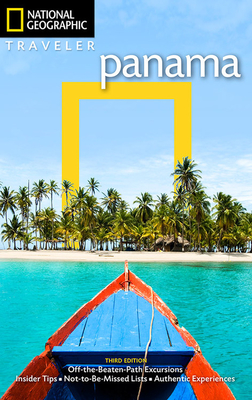 Description
---
A small-scale country on the surface, Panama is a Central American giant and gem just awakening to its vast potential. Esteemed travel writer Christopher Baker takes the reader on a journey of this fascinating place in his fully updated edition. Beginning in the cosmopolitan, steamy capital of Panama City, you move on to the Canal Zone and the central Caribbean, with world-class birding and rafting; Kuna Yala, administrated anonomously by indigenous Kuna people; the Darien, a biological Eden; and Central Panama, blessed with fine beaches, mountains, pre-Columbia sites, and important colonial architecture. Among the guide's special features are mapped walking and driving tours--including a walk around Panama City's Casco Antiguo and a drive across the Continental Divide; and special two-page entries on topics such as the Panama Canal and parrots and macaws. National Geographic and local experts provide insider tips on favorite or little known sites and events, and dozens of sidebars highlight experiences that show you how to truly get the most from your trip, including how to assist archaeologists uncover ancient artifacts at Panama Viejo and white-water rafting in the Highlands. This comprehensive guide includes essential background information and the author's pick of hotels and restaurants.

Aimed at active travelers who want authentic, enriching, cultural experiences and expert advice from a trustworthy source, National Geographic Travelers provide ways for people to experience a place rather than just visit, and give the true feel of each destination not easily found online.
About the Author
---
CHRISTOPHER P. BAKER has established a career as a travel writer, photographer, and lecturer. He has written several guidebooks about Cuba and Havana, as well as ones on Jamaica, The Bahamas, Turks & Caicos, and California. He is author of National Geographic Traveler: Costa Rica (2000), National Geographic Traveler: Cuba (2007), National Geographic Traveler: Dominican Republic (2008), and National Geographic Adventure Press's Mi Moto Fidel: Motorcycling through Castro's Cuba (2000). Photographer GILLES MINGASSON grew up in Grenoble, France before moving to Paris to pursue photojournalism. After being sent to the United States on assignment, he made Los Angeles his base. In 1990 Mingasson spent six months bicycling 7,500 miles across the Soviet Union with two cameras (and a serious saddle rash). On the eve of profound changes that few had yet to grasp, he photographed ordinary people who had lived their entire lives under the Soviet state. Today, Mingasson works on feature and travel stories for many clients including Fortune, Reader's Digest, Sky, Elle, and Le Figaro.