The Sacred Medicine Oracle: A 56-Card Deck and Guidebook (Cards)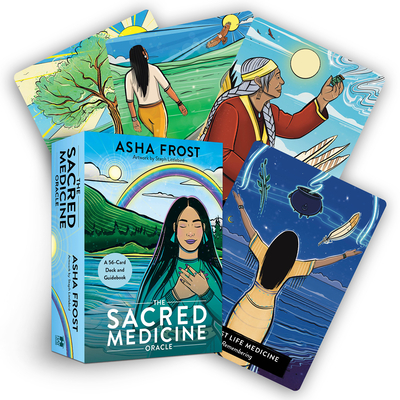 Description
---
Connect with healing traditions, stories, ancestral wisdom, and animal guidance through this 56-card deck and guidebook from Indigenous Medicine Woman and author of You Are the Medicine, Asha Frost.

Indigenous people know the power of earth and spirit medicine. Everything in our natural world is interconnected and sacred. The plants, animals, rocks, waters, stars, moon are our relations, our kin. Every aspect of creation has a spirit. This spirit lives in all things and informs us how to walk in a good way or, in Anishinaabemowin, Mino-bimaadiziwin.

The Sacred Medicine Oracle was birthed to invite readers into a conscious and respectful relationship with medicine teachings, awakening a daily connection to your own inner divinity, power, and wisdom. From the powerful remembering of "Past Life Medicine" to the promise of miracles with "Jingle Dress," each of the 56 cards depicts ceremony, traditions, moon phases, animal guides, and plant allies, all of them alive with energy and blessed with healing intentions from the ancestors.
About the Author
---
ASHA FROST (she/her) is an Indigenous Medicine Woman and a member of the Chippewas of Nawash First Nation. As an energy healer, homeopath, and mentor, Asha has guided thousands of people through profound and lasting transformation with her ceremonies, teachings, and speaking events. Asha lives on Anishinaabe, Huron-Wendat, and Haudenosaunee Territory, with her husband and two beautiful children, with whom she co-creates a better world for the seven generations to come. Visit her online at ashafrost.com.

STEPH LITTLEBIRD FOGEL is an Indigenous artist, writer, curator, and activist. Born and raised in Northwest Oregon she is a proud member of the Grand Ronde Confederated Tribes and a descendant of the Kalapuyan and Clatsop Chinook people. Find her on Instagram @artnerdforever.