The Bad Decisions Playlist (Paperback)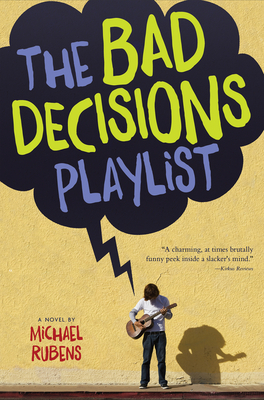 Description
---
"Funny and painful, it's a sharply etched portrait of fallible human beings living, loving, screwing up, and making do." —Publishers Weekly
 Sixteen-year-old Austin is always messing up and then joking his way out of tough spots. The sudden appearance of his allegedly dead father, who happens to be the very-much-alive rock star Shane Tyler, stops him cold. Austin—a talented musician himself—is sucked in to his newfound father's alluring music-biz orbit. None of Austin's previous bad decisions, resulting in broken instruments, broken hearts, and broken dreams, can top this one. Witty and audacious, Austin is dragged kicking and screaming toward adulthood in this hilarious, heart-wrenching novel.  
About the Author
---
Michael Rubens is a producer and correspondent for Full Frontal with Samantha Bee. In addition to The Bad Decisions Playlist he has published two novels: The Sheriff of Yrnameer (Pantheon), and Sons of the 613 (Clarion). His fourth novel is slated for publication in June of 2017. His work has also appeared in The New Yorker's Daily Shouts, HuffPost Comedy and Salon. He was previously a producer for Last Week Tonight with John Oliver and The Daily Show with Jon Stewart, and was for a very brief period the world's least effective bouncer. Visit him online at www.michaelrubens.com and on Twitter @michaelsrubens.
Praise For…
---
"A fun, smart, at times heartbreaking read about families, love, choices, consequences, and the power of music." —School Library Journal "An infectious read. . . . The key is the amount of heart with which Rubens infuses his characters. They are flawed, authentic, and tragically real. . . .Tailor-made for teen boys and the people who, for better or worse, know them." —Booklist "Funny and painful, it's a sharply etched portrait of fallible human beings living, loving, screwing up, and making do—and a fine look at the Twin Cities music scene." —Publishers Weekly "A charming, at times brutally funny peek inside a slacker's mind." —Kirkus —