Hockey Girl Loves Drama Boy (Paperback)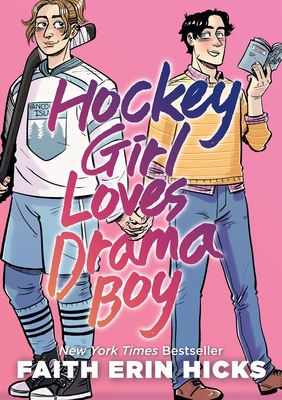 Description
---
New York Times bestseller Faith Erin Hicks is back with Hockey Girl Loves Drama Boy, a young adult graphic novel romance about a hotheaded hockey player who asks for temper management lessons from the cool, calm boy in drama club.

It should have been a night of triumph for Alix's hockey team. But her mean teammate Lindsay decided to start up with her usual rude comments and today Alix, who usually tries to control her anger, let it finally run free. Alix lashes out and before she knows it, her coach is dragging her off Lindsay, and the invitation to the Canada National Women's U18 Team's summer camp is on the line.

She needs to learn how to control this anger, and she is sure Ezra, the popular and poised theater kid from her grade is the answer. So she asks for his help. But as they hang out and start get closer, Alix learns that there is more to Ezra than the cool front he puts on. And that maybe this friendship could become something more....
About the Author
---
Faith Erin Hicks is a writer and artist who lives in Vancouver, Canada. Her published works include Friends with Boys, The Adventures of Superhero Girl, The Last of Us: American Dreams (with Neil Druckmann), The Nameless City trilogy, Comics Will Break Your Heart, and the New York Times bestselling Pumpkinheads (with Rainbow Rowell).
Praise For…
---
"With a keen eye, Hicks (Ride On) delivers a heartfelt graphic novel that is both a perceptive subversion of gender roles and a remarkable tale of unexpected friendship, personal growth, and the transformative power of embracing one's true self. "—Publishers Weekly, starred review

"Eisner-winning Hicks is a remarkable storyteller, equally convincing in words and panels…plenty of memorable moments on and off the ice." —Booklist, starred review

"Compelling characters presented through captivating, expressive illustrations." —Kirkus

"A feel good romance that doesn't shy away from the painful side of life." — SLJ

"Faith Erin Hicks is a master of putting emotion in every line and adding true depth to the rom-com genre." —Colleen AF Vennable, co-creator of Kiss Number 8

"Messy and relatable and charming as heck." —Sarah Winifred Searle, creator of The Greatest Thing