Descendant of the Crane (Paperback)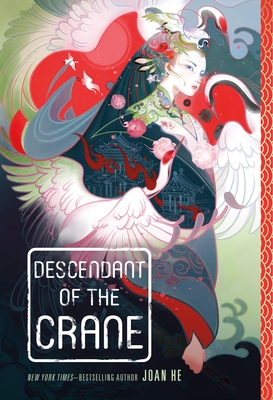 Description
---
In New York Times and Indie bestselling author Joan He's debut novel, Descendant of the Crane, a determined and vulnerable young heroine struggles to do right in a world brimming with deception. This gorgeous, Chinese-inspired fantasy is packed with dizzying twists, complex characters, and intricate politics.

TREASON

For princess Hesina of Yan, the palace is her home, but her father is her world. He taught her how to defend against the corruption and excesses of the old kings, before revolutionaries purged them and their seers and established the dynasty anew.

Before he died, he was supposed to teach her how to rule.

TRIAL

The imperial doctors say the king died a natural death, but Hesina has reason to believe he was murdered. She is determined to uncover the truth and bring the assassin to justice.

TRUTH

But in a broken system, ideals can kill. As the investigation quickly spins out of Hesina's control, she realizes that no one is innocent. Not the heroes in history, or the father she thought she knew. More blood will spill if she doesn't rein in the trial soon—her people's, her family's, and even her own.
About the Author
---
Joan He was born and raised in Philadelphia but still, on occasion, loses her way. At a young age, she received classical instruction in oil painting before discovering that stories were her favorite kind of art. She studied psychology and Chinese history at the University of Pennsylvania, and now splits her time between Philly and Chicago. She is the New York Times-bestselling author of The Ones We're Meant to Find and Descendant of the Crane, her young adult debut novel.
Praise For…
---
A Book of the Month™ Selection
A Publishers Lunch Spring/Summer 2019 YA Buzz Book
The Best Young Adult Fantasy Novels of 2019, Forbes
2020 Chelsey Award for Best Cover Illustration Finalist
SEVENTEEN MAGAZINE:"The 35 Best YA Books of 2019 So Far"
POPSUGAR.:"The 20 Best New Books to Read in April"
EPIC READS:"April is Bringing Us Three of the Year's New Must-Read Fantasy Novels"
B&N Teen:"20 of Our Most Anticipated YA Debuts of 2019"
Goodreads:"Spring's Most Epic YA Books"
Buzzfeed: "24 YA Books to Devour During Asian Pacific American Heritage Month"

"A gripping tale full of intrigue, unpredictable twists, and betrayal—this is the Chinese fantasy readers have been waiting for." - Hafsah Faizal, New York Times-bestselling author of the Sands of Arawiya duology

"Descendant of the Craneis my favorite kind of story: lyrical, romantic, politically complex, but most of all, driven by an iron-willed heroine who will do what must be done--no matter the cost." -Kristen Ciccarelli, internationally bestselling author of The Last Namsara

"A beautiful debut with thrilling politics and strokes of magic, set in a lush world that feels real and weighted with its own complex history." -Lori M. Lee, author of the "Gates of Thread and Stone" series and contributor to A Thousand Beginnings and Endings

"Joan He has penned a lovely and intriguing tale of secrets, family, and betrayal. You'll be drawn in by this marvelously vivid world… and keep turning the pages for the plot twists!" -Traci Chee,New York Times bestselling author of The Reader

"Deep world-building, magical family secrets, and intricate palace politics--Descendant of the Crane soars from page one. Its twists and treacheries kept me guessing until the very end." - Rachel Hartman,New York Timesbestselling author of Seraphina

"The plot twists are truly dizzying at times, and everyone, from villain to ally, has an intriguing backstory... With complex world-building and character development, readers tired of cookie-cutter stories will find some surprise twists here." - Kirkus Reviews

"A compelling, immersive book. Young adults will find a story and a world that is a joy to explore in this highly original mystery." - Foreword,starred review

"A fully realized history helps make this adventure, rooted in Chinese folklore, feel epic, while Hesina will appeal to contemporary readers." - Booklist

"Hesina is a heroine for the ages––brilliant, determined, and fierce. It is impossible not to root for her." -Laura Sebastian, New York Times bestselling author of Ash Princess

"[A] fast-moving debut... He combines a highly detailed Asian-inspired culture that incorporates Chinese names and traditions, aspects of top-notch thrillers, and complex characters to create a series opener that should appeal to teens and adults alike." - Publishers Weekly