The Longest Road: Overland in Search of America, from Key West to the Arctic Ocean (Paperback)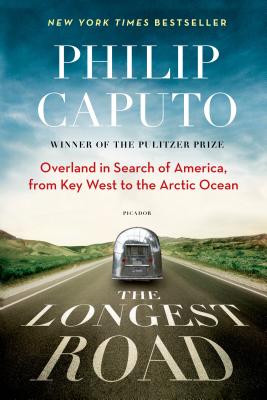 August 2013 Indie Next List
---
"In 2011, with Congress in a deadlock over pretty much everything, Philip Caputo decides to travel from milestone 0 in Key West, Florida to the farthest point the road goes in Alaska. In the process he asks different people what it is that bind us together as a nation. This book is part travel memoir and part philosophical treatise. The journey with Fred, his truck, Ethel, his airstream, his wife and dogs is great fun. The people they meet are unique and very opinionated. The answers he gets to his questions are interesting and thought provoking."
— janice Hunsche, Kaleidosaurus Books, Fishers, IN
Description
---
IN THE LONGEST ROAD, ONE OF AMERICA'S MOST RESPECTED WRITERS TAKES AN EPIC JOURNEY ACROSS THE NATION, AIRSTREAM IN TOW, AND ASKS EVERYDAY AMERICANS WHAT UNITES AND DIVIDES A COUNTRY AS DIVERSE AS IT IS VAST.
Standing on a wind-scoured island off the Alaskan coast, Philip Caputo marveled that its Inupiat Eskimo schoolchildren pledge allegiance to the same flag as the children of Cuban immigrants in Key West, six thousand miles away. And a question began to take shape: How does the United States, peopled by every race on earth, remain united? Caputo resolved that one day he'd drive from the nation's southernmost point to the northernmost point reachable by road, talking to Americans about their lives and asking how they would answer his question.
Caputo, his wife, and their two English setters made their way in a truck and classic trailer (hereafter known as "Fred" and "Ethel") from Key West, Florida, to Deadhorse, Alaska, covering sixteen thousand miles. He spoke to everyone from a West Virginia couple saving souls to a Native American shaman and taco entrepreneur. What he found is a story that will entertain and inspire readers as much as it informs them about the state of today's United States, the glue that holds us all together, and the conflicts that could pull us apart.
About the Author
---
Philip Caputo is an award-winning journalist—the co-winner of a Pulitzer Prize—and the author of many works of fiction and nonfiction, including A Rumor of War, one of the most highly praised books of the twentieth century. His book, The Longest Road, was a New York Times bestseller. His novels include Acts of Faith, The Voyage, Horn of Africa, Crossers, and Some Rise by Sin. He and his wife, Leslie Ware, divide their time between Norwalk, Connecticut, and Patagonia, Arizona.
Praise For…
---
"The ultimate road trip." —The Denver Post
"[An] engaging travelogue of a remarkable journey packed with plenty of intriguing tidbits for armchair travelers." —The Boston Globe
"A new book from the Pulitzer Prize-winning Caputo…is always an event. Pithily capturing their characters and opinions about the state of America, Caputo snares reading devotees of a classic American theme, the road trip." —Booklist, (starred review)
"It is a joy to read these stories. I mean that: pure joy. The Longest Road is the best thing to come along since Blue Highways and Travels with Charley." —Doug Stanton, New York Times bestselling author of Horse Soldiers
"[Caputo] keeps the narrative moving with his observant eye and mordant sense of humor." —The New York Times Book Review
"A new book from the Pulitzer Prize-winning Caputo…is always an event. Pithily capturing their characters and opinions about the state of America, Caputo snares reading devotees of a classic American theme, the road trip." —Booklist, starred review
"[Caputo] gives us a view not only of the 17,000 miles he traveled but of the many people with whom he spoke. The novelist and multi-award-winning journalist, whose Rumor of War was one of the defining books of the Vietnam era, should get it just right." —Library Journal
"A continental tale that is always engaging and frequently reassuring." —PW
"This reporter has more stamina in him than your average 21-year-old…Caputo creates captivating portraits of a wide variety of communities." —Kirkus