Vengeance: A Novel (Quirke #5) (Paperback)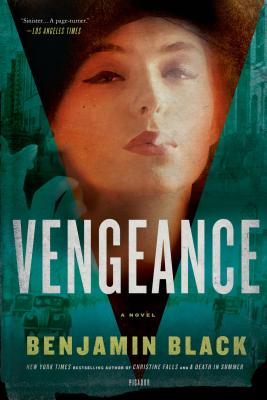 $22.00

Available to Order
(Due to distributor limitations, sales of this book are final - it cannot be returned to us.)
Other Books in Series
This is book number 5 in the Quirke series.
August 2012 Indie Next List
---
"If you haven't yet discovered Benjamin Black (a.k.a. John Banville) and his marvelous creation, Dr. Quirke, then you are missing some first-rate writing and entertainment. Vengeance is the fourth in a series set in Dublin in the late 1950s featuring the good doctor, a somewhat grumpy pathologist, and his drinking and sleuthing companion Inspector Detective Hackett. Quirke is a flawed man of many weaknesses, yet he manages to be in a state of permanent self-deprecation that he takes as a sign of virtue, and that makes him an irresistible and believable character."
— Darwin Ellis, Books on the Common, Ridgefield, CT
Description
---

"Propulsive… [Vengeance] will keep you turning pages."—The Los Angeles Times

It's a fine day for a sail, and Victor Delahaye, one of Ireland's most successful businessmen, takes his boat far out to sea—then kills himself in front of his partner's son. This mysterious death immediately engages the attention of Detective Inspector Hackett and his sometime partner, Quirke, consultant pathologist. The stakes are high, and Hackett and Quirke must proceed with caution as they question Mona Delahaye, the dead man's young and very beautiful wife; James and Jonas Delahaye, his identical twin sons; and Jack Clancy, his ambitious, womanizing partner. When a second—and even more shocking—death occurs, it becomes clear that a terrible secret threatens to destroy the lives and reputations of Dublin's elite, in this novel from Benjamin Black.
About the Author
---
Benjamin Black is the pen name of the Man Booker Prize-winning novelist John Banville. Black's books include The Black-Eyed Blonde, Christine Falls, The Silver Swan, among others. He lives in Dublin.
Praise For…
---
"[Benjamin Black's] books about the dour Irish pathologist named Quirke have effortless flair, with their period-piece cinematic ambience and their sultry romance. The Black books are more like Alan Furst's elegant, doom-infused World War II spy books than like standard crime tales." —Janet Maslin, The New York Times

"Readers with a literary bent who prefer stylish prose and fully-realized characters are in the right hands with Black… Black's prose is vividly rendered, almost painterly in its detail." —The Boston Globe

"Quirke is captivating--by turns dour and charming, and with an air about him that is catnip to women." —Seattle Times

"There are very few writers who can write elegantly about murder, but there is no question that Benjamin Black is one of them." —The Washington Times

"Propulsive… [Vengeance] will keep you turning pages." —The Los Angeles Time

"Alluring…The Black books have been lovely and luminous… [They] remain enticing, sultry pleasures." —Janet Maslin, The New York Times

"[Vengeance's] tartly playful opening is a tour de force, and one typical of Mr. Black, who enjoys confounding readers' expectations…. Vengeance is filled with … enticing sentences, sentences that quietly beckon, promising one thing before flirtatiously turning back and ending unexpectedly. Indeed, language is at the heart of the entire series." —Judith Flanders, The Wall Street Journal

"Benjamin Black…has become a dab hand at certain flourishes of classic genre writing, from the thumbnail character sketch (like one of a rascal who is "charming, dangerous, darkly handsome and given to destructive gaiety") to the single startling image that turns the story on its head (like the vindictive final gesture of a suicidal man). Vengeance… is filled with these vivid daubs." —The New York Times Book Review

"Gorgeously composed crime novels." —Entertainment Weekly

"There is no definitive solution to the confusion of the heart and soul, particularly in a culture of repressed desire, guilt and hypocrisy, liberally sprinkled with the holy water of alcohol. Like a Beckett character, Quirke is trapped. The mystery of these stylish Black novels is how his hero will escape his fate." —The Cleveland Plain Dealer

"[John Banville's] mysteries are a fun but still toothy diversion." —New York Post

"If you haven't yet discovered Benjamin Black (a.k.a. John Banville) and his marvelous creation, Dr. Quirke, then you are missing some first-rate writing and entertainment…Quirke is … an irresistible and believable character." —The Daily News

"Some incautious people may pick up Vengeance for a beach read, but don't you do it! You must savor the writing. There are no idle moments. Best to hold this one until the summer ends, until you are back at your fireside, the world outside in a slumber lulled by a distant sea, a dollop of Jameson in your glass." —The Washington Independent Review of Books

"John Banville, when he's not winning the Man Booker Prize and other literary hosannas, has become one of the world's great mystery men. You might know him better in that vein by his pen name--Benjamin Black…. Black is to mysteries what Guinness is to beer--rich, complex, satisfying… [Vengeance is] a delicious read." —WBUR (Boston's NPR News Station)

"Sly, engaging… The stylish mystery of Vengeance unravels in an Ireland where the Catholic Church and its traditions hold a firm grip. Black introduces us to a fascinating, finely drawn group of suspects." —Shelf Awareness

"A provocative whydunit…Superior prose…and subtle mystery ensure another winner for Black." —Publishers Weekly (starred review)

"Tautly paced… [Black's] new book is the best to date. Detective Inspector Hackett is back, his Irish country charm belying his keen mind, along with Quirke, a broody pathologist who always manages to fall off the wagon and bed a prime suspect." —Library Journal

"Black is in superbly crafty form…[He] keeps the plot sleek as his gleaming prose sails across the page as swiftly as the yachts owned by the wealthy victims in his latest tale of mannerly murder among the Irish elite… A seductively moody and shrewdly damning tale of privilege, arrogance, vengeance, and a touch of madness." —Booklist

"Black is in fine fettle, as usual; his prose harkens back to an earlier time, when the English language was to be savored. He develops a plot with the best of them, and his characters are finely drawn and challenging." —Bookpage

"Quirke remains a compelling mystery, perhaps to himself most of all… Along the way, there's the pleasure of Black's prose." —Kirkus Reviews