Sick of Shadows: An Edwardian Murder Mystery (Edwardian Murder Mysteries #3) (Paperback)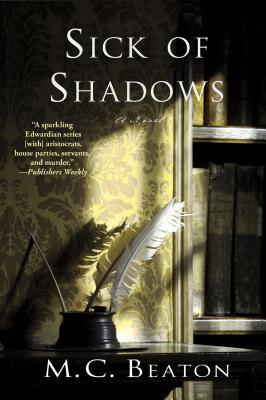 $18.99

Available to Order
(Due to distributor limitations, sales of this book are final - it cannot be returned to us.)
Other Books in Series
This is book number 3 in the Edwardian Murder Mysteries series.
Description
---
From New York Times bestseller M. C. Beaton: Imagine if the rebellious sister from Downton Abbey and her maid got mixed up in murder.

Captain Harry Cathcart and Lady Rose Summer have entered into an engagement of convenience-convenient for Rose, who wants to avoid being sent to India with all the other failed debutantes. Despite her considerable good looks, Rose's sharp intellect and radical ideas have served to repel her would be suitors. Rose's parents, unaware of the deception, are hardly thrilled that their only child is marrying a man in trade, but Harry comes from a good family, and at the very least, they hope he will keep their troublesome daughter out of mischief.

Unfortunately, even a pretend engagement cannot save Rose from trouble. Bored with endless parties, teas, and balls, she befriends Dolly Tremaine, a beautiful young girl newly arrived from the country and overwhelmed by the demands of the Season. Rose is delighted to have a protégée but their friendship is cut tragically short when Dolly is found floating in a river. Harry is summoned immediately to help solve the mystery of Dolly's death, and to keep Rose from being the murderer's next victim.

Sick of Shadows is the exciting third book in M.C. Beaton's sparkling Edwardian Murder Mysteries Series.
About the Author
---
M. C. Beaton (1936-2019), the "Queen of Crime" (The Globe and Mail), was the author of the New York Times and USA Today bestselling Agatha Raisin novels -- the basis for the hit show on Acorn TV and public television -- as well as the Hamish Macbeth series and the Edwardian Murder Mysteries featuring Lady Rose Summer. Born in Scotland, she started her career writing historical romances under several pseudonyms and her maiden name, Marion Chesney.

In 2006, M.C. was the British guest of honor at Bouchercon.
Praise For…
---
"If you missed the first novel in this series, get it right away. Snobbery with Violence introduced the Edwardian heroine Lady Rose Summer. Her second appearance is, if anything, even wittier and more amusing than the debut." —The Globe and Mail on Hasty Death

"Once again Chesney has concocted an amusing brew of mystery and romance that will keep her fans turning the pages." —Publishers Weekly on Hasty Death

"If you are a fan of well written traditional mysteries, Lord Peter and Albert Campion, you might want to try this series." —Reviewing the Evidence on Hasty Death

"Light, amusing, easy to read and thoroughly delightful." —Tampa Tribune on Snobbery with Violence

"Old hand Chesney (the School for Manners series and, as M. C. Beaton, the Agatha Raisin and Hamish Macbeth mysteries) maintains her charm and sassiness while indicting evergreen pomposity and class-status stupidity." —Kirkus on Snobbery with Violence

"Combines history, romance, and intrigue resulting in a delightful romantic mystery." —Midwest Book Review on Snobbery with Violence