31 Days Of Gratitude From A Once Broken Chick: Thanking Your Way Back To Whole (31 Day Journeys #1) (Paperback)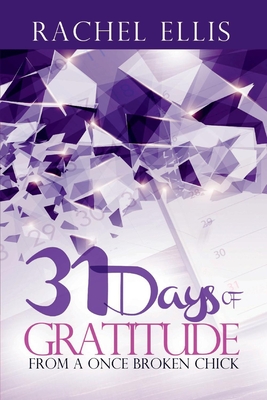 $19.00
Not Available from Us
Description
---
31 Days of Gratitude From A Once Broken Chick is a month-long inspirational journey that will rescue you from life's seemingly inescapable quagmire. It will inspire you to discover the endless reasons to be grateful for each of our life experiences. These real-life journal entries, prayers, declarations and proven, practical applications will direct you toward a life that attracts emotional and spiritual stability. It will encourage you to approach the exploration of life with a newfound strength and fortitude.

After ten miscarriages, multiple surgeries to correct fertility issues, a failed business, failed marriage and a laundry list of upsets, Rachel Ellis begged God to just let her die. Lectures from motivational speakers left her more discouraged. Religious services left her hungry and frustrated. It wasn't until she met the mother of a special needs child that she realized the formula to turning her life around: gratitude. By focusing on finding one thing each day for which she was grateful, a beautiful cycle of thanks was set into motion.

Each day, as you read through the pages of this gratitude journal, you're challenged to look at your life as a gift. Take a moment to unwrap one gift and become so overcome with appreciation that negativity fades and positivity takes its place.

What you face is real. Your pain is not a figment of your imagination. These pages aren't filled with empty rhetoric, religious mumbo-jumbo or church cliché. However, through Ellis's journey of gratitude from brokenness to wholeness, you'll learn how to say "thank you" to your own life experiences.
About the Author
---
Dr. Rachel Ellis JD, ThD is a licensed minister, life coach, author, artist and seminar speaker. Her mission is to assist in the liberation of men and women who have been bound by their own experiences.

She has traveled the world singing and speaking. She is a philanthropist and human rights activist. She is available for conferences, book club gatherings, workshops and television appearances. You can reach her at Iamrachelellis@gmail.com.