Black Woman in Green: Gloria Brown and the Unmarked Trail to Forest Service Leadership (Paperback)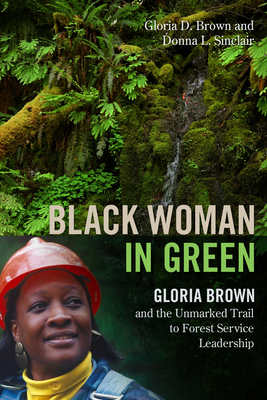 $19.95
Not Available from Us
Description
---
From an unlikely beginning as an agency transcriptionist in her hometown of Washington, DC, Gloria Brown became the first African American woman to attain the rank of forest supervisor at the US Forest Service. As a young widow with three children, she transferred to Missoula, Montana, and embarked on a remarkable journey, ultimately leading the Siuslaw National Forest in Oregon and later the Los Padres in California. The story of Brown's career unfolds against the backdrop of a changing government agency and a changing society.

As scholars awaken to the racist history of public land management and the ways that people of color have been excluded from contemporary notions of nature and wilderness, Brown's story provides valuable insight into the roles that African Americans have carved out in the outdoors generally and in the field of environmental policy and public lands management specifically. Drawing on her powerful communication and listening skills, her sense of humor, and her willingness to believe in the basic goodness of humanity, Brown conducted civil rights trainings and shattered glass ceilings, all while raising her children alone.

Written in an engaging and accessible style with historian Donna Sinclair, Brown's story provides a fascinating case study for public administration and contributes to a deeper understanding of the environmental and civil rights movements of the twentieth century, particularly the role that racial discrimination has played in national forests, parks, and other wilderness spaces. It also highlights issues of representation in the federal government, women's history, the history of the American West, and literature associated with African American experiences in predominately white societies.

 
About the Author
---
GLORIA D. BROWN started work for the USDA Forest Service in Washington, DC, in 1974 and worked her way up in the agency by moving west and qualifying as a forester through Oregon State University. As a forest supervisor, Brown received many awards for mediating conflicts between the government and environmentalists. She lives in Lake Oswego, Oregon.

DR. DONNA L. SINCLAIR is an adjunct history professor, public historian, and museum professional who specializes in oral history; Clark County, Washington, community history; and politics. Sinclair lives in Washougal, Washington, where she serves on the school board. Her dissertation, "Caring for the Land, Serving People: Creating a Multicultural Forest Service in the Civil Rights Era" led to her collaboration with Gloria Brown on Black Woman in Green.