My Hermitage: How the Hermitage Survived Tsars, Wars, and Revolutions to Become the Greatest Museum in the World (Hardcover)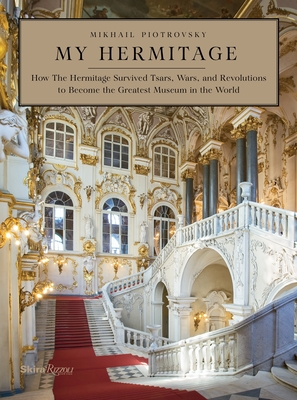 Description
---
In a memoir, the museum's longtime director takes the reader on a private tour of this global treasure. Holding one of the largest collections of Western art in the world, the Hermitage is also a product of Russia and its dramatic history. Founded by Empress Catherine the Great in 1764, the stunning Winter Palace was built to house her growing collection of Old Masters and to serve as a home for the imperial family. Tsars came and went over the years, artworks were acquired and sold, buildings were burned down in terrible fires, and still the collections grew. After the violent upheavals of the Russian Revolution in 1917, the palaces and collections were opened to the public.

Now, in an unprecedented collection of illuminating essays, Piotrovsky explores the cultural history of a collection as rich in adventure as art. From fascinating intrigues to revelatory scholarship on the collection's incredible art and artifacts, My Hermitage is a profound and captivating story of art's timelessness and how it brings people together.
About the Author
---
Mikhail Borisovich Piotrovsky has been the director of the State Hermitage Museum since 1992 and has dedicated his career to making the treasures of the museum accessible to individuals and institutions around the world.
Praise For…
---
"I welcome the new book, My Hermitage: How The Hermitage Survived Tsars, Wars and Revolutions to Become the Greatest Museum in the World, for its erudition, passion and lively history. . . I hope The Hermitage is on your list of 'must-see' museums. If so, this is the essential reference that will enrich the hours and days of exploration."
-TheStyleSaloniste.com

"The story of the palatial museum's 250-year history, which is as rich in adventure as it is in art, is extravagantly revealed." 
-THE SOCIETY DIARIES

"The visuals of My Hermitage continually remind you of the encyclopedic collection housed there. This beautiful, lavishly illustrated book hints at the opulence of the setting of that collection as well . . . For some, these reminders of the tsarist past jar with their decadence, but I saw them as the most appropriate setting for the art — a literal, almost limitless palace of human imagination."
-BIG THINK