Walking in the Wilderness: Seeking God During Lent (Paperback)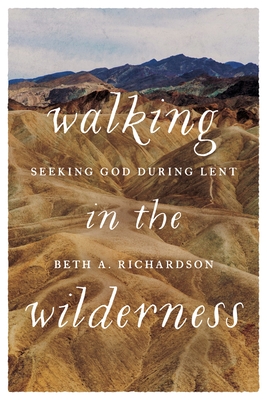 Description
---
People of faith are struggling these days as they watch unbelievable events unfold around the world. We are living in a time of wilderness and exile.
Yet the wilderness is a familiar place for those who follow Jesus. We spend 40 days in the wilderness during Lentƒƒ''ƒ''"ƒƒ''ƒ''€ƒƒ''ƒ''"days in which God calls us to self-examination, repentance, and making room for the Holy One in our lives. Our task during Lent is to clear away the clutter from our hearts so we can be fully present to God and our neighbors.
Walking in the Wilderness includes daily reflections for Ash Wednesday through Easter. A spiritual practice is introduced each Sunday of Lent: Being Present, Lament, Lectio Divina, Trust, Compassion, and Hospitality.
"We come hungry to this season of Lent," Beth Richardson writes, "hungry for words of life, for rituals of preparation, for disciplines to help us on our way." Walking in the Wilderness provides a spiritual feast for readers during the longest season of the Christian year.