The Road South: Personal Stories of the Freedom Riders (Hardcover)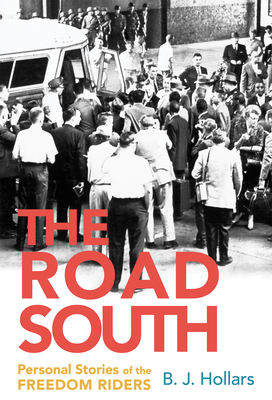 Description
---
Revisits the inspiring and heroic stories of the Freedom Riders, through their own words.
 
In May 1961, despite multiple Supreme Court rulings, segregation remained alive and well within the system of interstate travel. All across the American South, interstate buses as well as their travel facilities were divided racially. This blatant disregard for law and morality spurred the Congress of Racial Equality to send thirteen individuals—seven black, six white—on a harrowing bus trip throughout the South as a sign of protest.
 
These original riders were met with disapproval, arrests and violence along the way, but that did not stop the movement. That summer, more than four hundred Freedom Riders continued their journey—many of them concluding their ride at Mississippi's notorious Parchman Farm, where they endured further abuses and indignities. As a result of the riders sacrifice, by November of 1961, the Interstate Commerce Commission finally put an end to interstate commerce segregation, and in the process, elevated the riders to become a source of inspiration for other civil rights campaigns such as voter registration rights and school desegregation.
 
While much has been written on the Freedom Rides, far less has been published about the individual riders. Join award-winning author B. J. Hollars as he sets out on his own journey to meet them, retracing the historic route and learning the stories of as many surviving riders as he could. The Road South: Personal Stories of the Freedom Riders offers an intimate look into the lives and legacies of the riders. Throughout the book these civil rights veterans' poignant, personal stories offer timely insights into America's racial past and hopeful future.
 
Weaving the past with the present, Hollars aims to demystify the legendary journey, while also confronting more modern concerns related to race in America. The Road South is part memoir and part research-based journalism. It transcends the traditional textbook version of this historical journey to highlight the fascinating stories of the many riders—both black and white—who risked their lives to move the country forward.
About the Author
---
B. J. Hollars is an associate professor of English at the University of Wisconsin-Eau Claire. He is the author of several books including Thirteen Loops: Race, Violence and the Last Lynching in America; Opening the Doors: The Desegregation of the University of Alabama and the Fight for Civil Rights in Tuscaloosa; Flock Together: A Love Affair With Extinct Birds; From the Mouths of Dogs: What Our Pets Teach Us about Life, Death, and Being Human, among others.
Praise For…
---
"At various points personal quest, memoir, travelogue, and oral history, B. J. Hollars' The Road South is a fine and important contribution to our understanding of the Freedom Riders, what motivated them, how their participation in the movement shaped them, and how they shaped America."
—Derek Charles Catsam, author of Freedom's Main Line: The Journey of Reconciliation and the Freedom Rides

"By undertaking his own journey of reconciliation, author B. J. Hollars brings fresh relevance to the history of the 1961 Freedom Rides. His compelling and creative melding of past with present reminds us that extraordinary actions by fiercely determined young people have—and still can—change the world. This inspiring tribute to citizens who transformed America during the turbulent times of the 1960s, brings a road into view that beckons us anew to travel the distance for freedom."
—Ann Bausum, author of Freedom Riders: John Lewis and Jim Zwerg on the Front Lines of the Civil Rights Movement

"From the opening interview with Jim Zwerg all the way to the end, I felt as if I were getting to know these historical figures better than I had in the past, and I have interviewed several of them myself."
—Frye Gaillard, author of Cradle of Freedom: Alabama and the Movement that Changed America and Alabama's Civil Rights Trail: An Illustrated Guide to the Cradle of Freedom