Indian Children's Favorite Stories (Hardcover)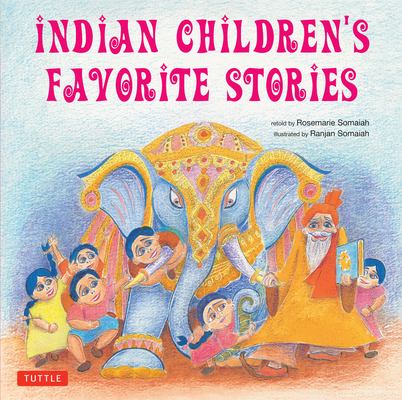 Description
---
This colorfully illustrated multicultural children's book presents Indian fairy tales and other folk stories—providing insight into a vibrant literary culture.
Indian Children's Favorite Stories
is a charming selection of eight Indian tales that provide an insight into traditional Indian culture. They make perfect new additions for story time or bedtime reading.
Retold for an international audience, the beautifully illustrated stories will give children of all ages a glimpse into the fables and folklore of India including tales of how Lord Krishna escapes the evil Kamsa's repeated attempts to kill him, and how the elephant keeper's daughter, Rani, humbles an unwise and unjust king by emptying his storehouses of rice.
Featured Indian stories include:
Munna and the Grain of Rice
The Birth of Krishna
No Ordinary Lad
The Story of Rama
Sukhu and Dukhu
Tenali Raman
Journey to Heaven
The Foolish Man
A glossary is also included to clarify Indian words. The
Children's Favorite Stories
series was created to share the folktales and legends most beloved by children in the East with young readers of all backgrounds in the West. Other multicultural children's books in this series include:
Asian Children's Favorite Stories, Indonesian Children's Favorite Stories, Japanese Children's Favorite Stories, Singapore Children's Favorite Stories, Filipino Favorite Children's Stories, Favorite Children's Stories from China & Tibet, Chinese Children's Favorite Stories, Korean Children's Favorite Stories, Balinese Children's Favorite Stories,
and
Vietnamese Children's Favorite Stories
.
About the Author
---
Rosemarie Somaiah, who spent her childhood in India, is a storyteller, teacher and writer who loves to link the threads of stories old and new.

B. Ranjan Somaiah was born in India. He obtained his degree in engineering and was offered to participate in the management training program in the graphic arts at Tata Press Ltd. He spent 16 years there and decided to venture out on his own and eventually took up art and illustrating seriously. He's contributed to various publications, including the Deccan Herald.
Praise For…
---
"The illustrations in this story are authentic and engaging." —Kids Yoga Stories blog

"Though more complex than the other children's books we had read about India, my daughter was fascinated with these eight tales and their beautiful illustrations—especially Ravana, the ten-headed rakshasa. Though I suspect some of the themes of the stories went over her head, it wasn't unusual for me to catch her reading this book after tucking her in for the night." —Africa to America blog

"…the illustrations are fun and go with the stories. The book has eight stories in it. They range from this fun mathematical tale [Munna and the Grain of Rice] to ones about the gods and so much more. Many have lessons and are fun to read." —Crafty Moms Share blog

"They take us on a journey so that each story almost flows into the next like a chapter book, but each story can also be read in any order." —Castle View Academy blog