Patterns in Art: A Closer Look at the Old Masters (Hardcover)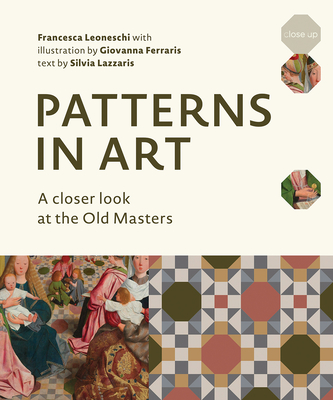 Description
---
Richly embroidered robes. Intricate lace collars. Elaborately laid floor tiles. Delicately carved and modeled cornices and capitals. These are among the details of decorative art that the Old Masters lovingly rendered in their paintings, to establish a setting, convey a portrait subject's social status, or sometimes just enliven a scene. Together these details--so easy to overlook in the imposing harmony of draftsmanship, color, and composition that makes up a great painting--form a veritable history of ornament.

This inventive book plucks these decorative motifs from the background of paintings by masters like Bronzino, Fra Angelico and Jacques-Louis David, and transforms them into vibrant two-dimensional patterns. Seeing these patterns side-by-side with the original paintings deepens our appreciation of both. Patterns in Art will be a resource for graphic designers, and a revelation for all art lovers.
About the Author
---
Francesca Leoneschi is cofounder and creative director of The World of DOT, a graphic design studio based in Milan. She is also art director of Rizzoli Libri, and has designed hundreds of successful book covers for leading publishers in Italy and worldwide. Giovanna Ferraris is a designer at The World of DOT, a graphic design studio based in Milano. Silvia Lazzaris is a journalist based in London.