Phantom Evil (Hardcover)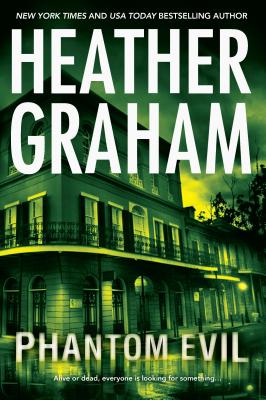 $24.95

Backordered - No Estimated Arrival Date
Description
---
A secret government unit is formed under the oversight of Adam Harrison, famed paranormal investigator. The six members he's gathered know a little of the otherworldly--each has honed a psychic talent of their own. Jackson Crow, part English, part Cheyenne, heads the group. Haunted by his experience with an ancestral ghost who saved his life as a child, and the recent murders of two previous teammates, Jackson can't tell if Adam's demoted him or given him an extraordinary opportunity. Despite his link to the realm of spirits, he's well aware that the living commit the most heinous crimes, with spiritualist charlatans existing merely to fool and seduce the unwary. To counterbalance Jackson's careful skepticism, Adam Harrison has paired him with Angela Hawkins, a young woman who learned the painful lesson of loss at an early age. A police officer utilizing her paranormal intuition in Virginia, she already has her hands full. But Adam's call to New Orleans is strong. The case: In a historic mansion in New Orleans's French Quarter, a senator's wife falls to her death from a balcony. Most think she jumped, distraught over the loss of her young son. Some say she was pushed. And yet others believe she was beckoned by the ghostly spirits that inhabit the house--once the site of a serial killer's grisly work. Whether supernatural or all too human, crimes of passion, greed and desire will cast the pair into danger of losing their lives...and their immortal souls.
Praise For…
---
"Graham expertly blends a chilling history of the mansion's former residents with eerie phenomena, once again demonstrating why she stands at the top of the romantic suspense category." --Publisher's Weekly on Phantom Evil, Starred Review



"An incredible storyteller."
-Los Angeles Daily News



"Graham wields a deftly sexy and convincing pen."
-Publishers Weekly



"A fast-paced and suspenseful read that will give readers chills while keeping them guessing until the end."
-RT Book Reviews on Ghost Moon



"If you like mixing a bit of the creepy with a dash of sinister and spine-chilling reading with your romance, be sure to read Heather Graham's latest...Graham does a great job of blending just a bit of paranormal with real, human evil."
-Miami Herald on Unhallowed Ground



"Eerie and atmospheric, this is not late-night reading for the squeamish or sensitive."
-RT Book Reviews on Unhallowed Ground



"The paranormal elements are integral to the
unrelentingly suspenseful plot, the characters
are likable, the romance convincing, and, in the
wake of Hurricane Katrina, Graham's atmospheric
depiction of a lost city is especially poignant."
-Booklist on Ghost Walk



"Graham's rich, balanced thriller sizzles with equal parts suspense, romance and the paranormal-all of it nail-biting."
-Publishers Weekly on The Vision



"Heather Graham will keep you in suspense until the very end."
-Literary Times



"Mystery, sex, paranormal events. What's not to love?"
-Kirkus on The Death Dealer