Whose Samosa is it Anyway?: The Story of Where 'Indian' Food Really Came From (Hardcover)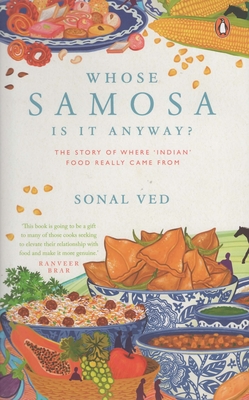 Description
---
Did the European traders come before the Arab conquerors?
Can you say cinnamon is an Indian spice even though it first grew in Sri Lanka on the Indian subcontinent?
What are the origins of chutney and samosa or of the fruit punch, and how are they connected to India?
Who taught us how to make ladi pav, and how did the Burmese khow suey land up on the wedding menus of Marwaris?

In Whose Samosa Is It Anyway the author tries to find an answer to the most basic questions about Indian food only to conclude that there is no such thing as a definitive Indian cuisine and that there are as many hyper-local Indian cuisines as there are Indian states.
About the Author
---
Sonal Ved is the content director at India Food Network, Tastemade India and the food editor at Vogue India. Her second cookbook Tiffin was listed in the New York Times as one of the must-have cookbooks for Fall 2018. Apart from writing about food, she also hosts cooking shows for Tastemade. Her words have appeared in food publications such as Food52 and Thrillist.
Praise For…
---
Praise for Tiffin:
  "A vast and vivid compendium of Indian cuisine. . . . a beautifully designed and inclusively written account of modern Indian cuisine that embraces a multiplicity of tastes and techniques."―The New York Times, one of 'The Best Cookbooks of Fall 2018'

"The care and dedication [Sonal Ved] took when creating this cookbook shines through each illustration and brightly colored photograph.... Tiffinis the cookbook for those who are looking to delve deeper into the diversity of India."―Saveur

"Tiffin, with its encyclopedia-like heft and colorful illustrations by Abhilasha Dwan, is my new coffee table fixture. It's the kind of book I'll keep picking up and referring back to, learning something new about Indian cuisine every time."―Bon Appetit, All the Cookbooks and Regular Books We Adored in 2018

"Tiffinis more than just a cookbook. It's a tour through India that sheds light on the country's regional specialties and nuanced flavor combinations to demonstrate the culinary diversity of the country."―The Reference and User Services Association (RUSA), a division of the American Library Association