You Bet Your Heart (Hardcover)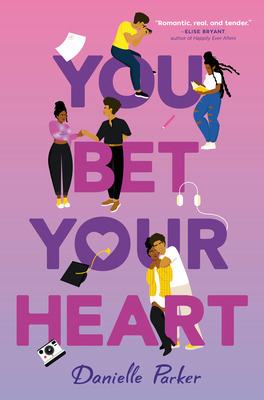 Description
---
A riveting, swoon-worthy teen romance centered on two high achievers fighting for the title of high school valedictorian and falling in love along the way, from debut author Danielle Parker.

Sasha Johnson-Sun might not know everything—like how to fully heal after her dad's passing or how many more Saturdays her mom can spend cleaning houses. But the one thing Sasha is certain of? She will graduate this year as Skyline High's class valedictorian.

At least, she was sure before the principal calls Sasha and her cute, effortlessly gifted ex–best friend, Ezra Davis-Goldberg, into his office to deliver earth-shattering news: they're tied for valedictorian and the scholarship attached…

This outcome can't be left to chance. So, Sasha and Ezra agree on a best-of-three, winner-take-all academic bet. As they go head-to-head, they are forced not only to reexamine why they drifted apart but also to figure out who they've become since. With her future hanging in the balance, Sasha must choose: honor her family's sacrifices by winning (at all costs) or give her heart a shot at finding happiness?
About the Author
---
Born and raised in California, Danielle has a BA in English from the University of California, Berkeley, and an MA in education from the University of California, Los Angeles. She has over ten years of experience as a high school English teacher, during which her greatest pleasure was helping reluctant readers find a novel they absolutely loved. Danielle now lives in the Pacific Northwest with her family. You Bet Your Heart is her debut novel. When she's not writing, Danielle can be found looking for a pool to splash in, thinking about dessert, or taking a quick nap.
Praise For…
---
"Romantic, real, and tender." —Elise Bryant, author of Happily Ever Afters
 
"Your next favorite rom-com." —Maurene Goo, author of Somewhere Only We Know
 
"Utterly charming and thoroughly delightful!" —Julia Drake, author of The Last True Poets of the Sea
 
"An affirming love story for the anxious, the driven, the color-coordinated-pencil-case-loving reluctant romantics everywhere." —Jade Adia, author of There Goes the Neighborhood
 
"A fun, fast-paced, and flirty rom-com. Come for the swoons, stay for the feels." —Samantha Markum, author of This May End Badly

"An insightful and emotional exploration of teen changes and growth." —Kirkus Reviews

"[A] hilarious portrayal of academic angst." —Publishers Weekly

"Hand to readers who enjoy other academic rivals-to-love stories such as Not Here to Be Liked by Michelle Quach and The Only Thing Worse Than Me Is You by Lily Anderson." —School Library Journal