A Witch's Guide to Magical Innkeeping (Paperback)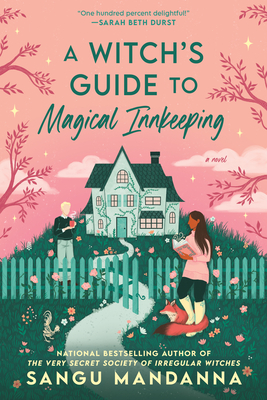 Description
---
An enchanting novel about a witch who has a second chance to get her magical powers—and her life—back on track, from the national bestselling author of The Very Secret Society of Irregular Witches.

Sera Swan was once one of the most powerful witches in Britain. Then she resurrected her great-aunt Jasmine from the (very recently) dead, lost most of her magic, befriended a semi-villainous talking fox, and was exiled from her magical Guild. Now she (slightly reluctantly and just a bit grumpily) helps Aunt Jasmine run an inn in Lancashire, where she deals with her quirky guests' shenanigans, tries to keep the talking fox in check, and longs for the magical future she lost.

When she learns about an old spellbook that holds the secret to restoring her power, she turns to Luke Larsen, a gorgeous historian who might just be able to help her unlock the book's mysteries. Luke, who has his own reasons for staying at the inn, never planned on getting involved in the madcap goings-on around him and definitely had no intention of letting certain grumpy innkeepers past his icy walls, so no one is more surprised than he is when he not only agrees to help, but also finds himself thawing.

Running an inn, reclaiming lost magic, and staying one step ahead of the watchful Guild is a lot for anyone, but Sera is about to discover that she doesn't have to do it alone... and that the weird, wonderful family she's made might be the best magic of all.
About the Author
---
Sangu Mandanna is the author of The Very Secret Society of Irregular Witches, Kiki Kallira Breaks a Kingdom, and several other novels about magic, monsters, and myths. She lives in Norwich, a city in the east of England, with her husband and three kids.
Praise For…
---
"Sangu Mandanna's books are the perfect read if you're craving a little magic and a lot of heart."—New York Times bestselling author Ashley Poston

Praise for The Very Secret Society of Irregular Witches

"An effervescent stunner."—The New York Times

"This is one of my coziest reads of the last year, and I find myself thinking about its enchanted setting all the time."—#1 New York Times bestselling author Emily Henry

"This whimsical romance is full of quirky, lovable characters who will charm even the grumpiest of readers. It's an enchanting story that brings to life the wonders of finally finding your people and letting love find you."—The Washington Post

"A cozy tale about the powerful alchemy of believing we are worthy of the family we find. Full of charm, wit, romance, and an affirmation that we are all deserving of love and real magic." —New York Times bestselling author of Legends and Lattes Travis Baldree

"The Very Secret Society of Irregular Witches is a warm and witchy hug of a book. Full of endearing characters, romance and found family, it's the cozy magical romance you've been waiting for. I absolutely adored it!"—award-winning author of The Oleander Sword Tasha Suri