Chaos Terminal (The Midsolar Murders #2) (Paperback)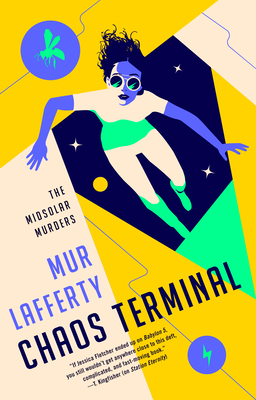 Other Books in Series
This is book number 2 in the The Midsolar Murders series.
Description
---
Mallory Viridian would rather not be an amateur detective, and fled to outer space to avoid it…but when one of the new human arrivals on a space shuttle is murdered, she's back in the game.

Mallory Viridian would rather not be an amateur detective, thank you very much. But no matter what she does, people persist in dying around her—and only she seems to be able to solve the crime. After fleeing to an alien space station in hopes that the lack of humans would stop the murders, a serial killer had the nerve to follow her to Station Eternity. (Mallory deduced who the true culprit was that time, too.)

Now the law enforcement agent who hounded Mallory on Earth has come to Station Eternity, along with her teenage crush and his sister, Mallory's best friend from high school. Mallory doesn't believe in coincidences, and so she's not at all surprised when someone in the latest shuttle from Earth is murdered. It's the story of her life, after all.

Only this time she has more than a killer to deal with. Between her fugitive friends, a new threat arising from the Sundry hivemind, and the alarmingly peculiar behavior of the sentient space station they all call home, even Mallory's deductive abilities are strained. If she can't find out what's going on (and fast), a disaster of intergalactic proportions may occur.…
About the Author
---
Mur Lafferty is an author, podcaster, and editor. She has been nominated for many awards, and even won a few. She lives in Durham, NC with her family.
Praise For…
---
"The wonderfully inventive, delightfully wacky, and cleverly complex Midsolar Murders sf-mystery series is off and running again, this time exploring more of Mallory's background while maintaining the delicious humor and intricate mystery prevalent in the first book."—Booklist (starred review)

"The follow-up to Station Eternity is just as complex and engaging as its predecessor. Lafferty's skill with dialogue and emotional arcs make the story equally character- and action-driven."—Library Journal (starred review)

"This whirlwind adventure is good fun."—Publishers Weekly

Praise for Station Eternity
"What a glorious romp. Murder, sentient space stations, and banter. It had everything I wanted."—Mary Robinette Kowal, Hugo and Nebula Award–winning author of The Calculating Stars

"As bingeable and satisfying as your favorite murder show. I couldn't put it down."—Sarah Pinsker, Nebula Award–winning author of A Song For A New Day and We Are Satellites

"Lafferty's characters stomp off the page, kicking ass and taking names as they do. If Jessica Fletcher ended up on Babylon Five, you still wouldn't get anywhere close to this deft, complicated, fast-moving book."—T. Kingfisher, Hugo and Nebula Award–Winning author of The Hollow Places

"Mur Lafferty proves once again that she has the rare talent to blend and bend the sister genres of mystery and science fiction.   She gathers her cast of characters, both humans and exuberantly-imagined aliens, onto a sentient space station whose identity problems may cause the deaths of all aboard.  Meet resourceful and mordant sleuth Mallory, already cursed with being a serial witness to murder, who's in a race to solve the mystery of Station Eternity and avert an interstellar fiasco.  Smart and sassy, here's the book that will blast you to orbit."--James Patrick Kelly winner of the Hugo, Nebula and Locus awards

"Mur Lafferty is turning into science fiction's Agatha Christie, with her mastery of ensemble casts and deft characterizations. Station Eternity builds a whole new universe of alien civilizations and wraps it all in an engaging mystery. This fun, fast-paced novel is sure to please fans of both Six Wakes and Solo."—S.B. Divya, Hugo and Nebula nominated author of Machinehood

"A clever and suspenseful sci-fi mystery, with intriguing characters and attentive worldbuilding. "—Library Journal (starred review)

"A super entertaining read with great character development, neat aliens, and an engaging plot."—Buzzfeed

"The Midsolar Murders series starter offers fascinating world building, a complex mystery, a devious espionage plot, and delightful interactions with a multitude of alien species that fans of science fiction and compelling mysteries will savor while they anticipate the next installment."—Booklist (starred review)