Probable Impossibilities: Musings on Beginnings and Endings (Paperback)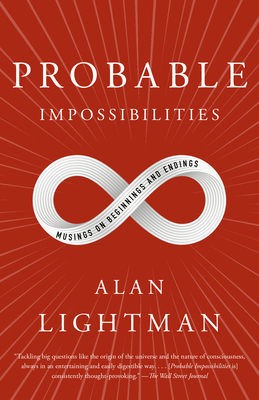 Description
---
The acclaimed author of Einstein's Dreams tackles "big questions like the origin of the universe and the nature of consciousness ... in an entertaining and easily digestible way" (Wall Street Journal) with a collection of meditative essays on the possibilities—and impossibilities—of nothingness and infinity, and how our place in the cosmos falls somewhere in between.
 
Can space be divided into smaller and smaller units, ad infinitum? Does space extend to larger and larger regions, on and on to infinity? Is consciousness reducible to the material brain and its neurons? What was the origin of life, and can biologists create life from scratch in the lab?
 
Physicist and novelist Alan Lightman, whom The Washington Post has called "the poet laureate of science writers," explores these questions and more—from the anatomy of a smile to the capriciousness of memory to the specialness of life in the universe to what came before the Big Bang.

Probable Impossibilities is a deeply engaged consideration of what we know of the universe, of life and the mind, and of things vastly larger and smaller than ourselves.
About the Author
---
ALAN LIGHTMAN is the author of seven novels, including the international best seller Einstein's Dreams and The Diagnosis, a finalist for the National Book Award. He has taught at Harvard and at MIT, where he was the first person to receive a dual faculty appointment in science and the humanities. He is the host of the public television series Searching: Our Quest for Meaning in the Age of Science. He is a professor of the practice of the humanities at MIT.
Praise For…
---
"In Probable Impossibilities, the poetic physicist Alan Lightman sieves four centuries of scientific breakthroughs with a soulful reverence for the poetry of existence . . . In an echo of one of the book's subtlest yet profoundest undertones, Lightman challenges our binary view of life and death . . . Altogether luminous."—Maria Popova, Brainpickings

"His latest collection of essays, [has a] syncretic spirit, tackling big questions like the origin of the universe and the nature of consciousness, always in an entertaining and easily digestible way . . . Consistently thought-provoking."—Wall Street Journal

"A series of essays on creation, consciousness, and our place in the universe, Lightman turns his attention to some of our biggest questions about infinity and nothingness."—Buzzfeed

"Lightman has two gifts that stand out. One is for analogy . . . In isolation, physics can get pretty weird at its extremes, but Lightman makes it seem familiar and accessible . . . His other gift involves bridging the scientific and the personal . . . Savvy . . . Probable Impossibilities stands as a beautiful argument against the old Romantic-era notion that science kills wonder. In the hands of Lightman, science only multiplies it."—American Scholar

"Galactic wonder radiates through these essays by the renowned theoretical physicist, whose writing proves companionable and illuminating."—Christian Science Monitor

"A roaming, eye-opening, insightful, and literate collection of science writing . . . Complex science made accessible."—Kirkus Reviews

"Lightman's awe about the physical world is infectious. He speaks with the authority of a scientist, specifically a former Harvard astrophysicist, and the eloquence of a novelist . . . Probable Impossibilities offers a primer on many of modern science's most mind-blowing discoveries, incorporating profiles of scientists performing cutting-edge research. Lightman weaves his own story and voice though the book."—Publishers Weekly

"Radient . . . Provocative . . . Lightman, matching fact with awe, pilots readers on enlivening and enlightening thought voyages into such realms as quantum physics, genetics, miracles, and the expanding universe, each foray offering new coordinates, evocative vistas, and deepened understanding."—Booklist