All Clear: A Novel (Oxford Time Travel #2) (Paperback)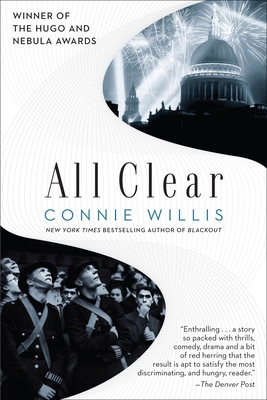 Other Books in Series
This is book number 2 in the Oxford Time Travel series.
Description
---
Winner of the Nebula Award

Traveling back in time, from Oxford circa 2060 into the thick of World War II, was a routine excursion for three British historians eager to study firsthand the heroism and horrors of the Dunkirk evacuation and the London Blitz. But getting marooned in war-torn 1940 England has turned Michael Davies, Merope Ward, and Polly Churchill from temporal tourists into besieged citizens struggling to survive Hitler's devastating onslaught. And now there's more to worry about than just getting back home: The impossibility of altering past events has always been a core belief of time-travel theory—but it may be tragically wrong. When discrepancies in the historical record begin cropping up, it suggests that one or all of the future visitors have somehow changed the past—and, ultimately, the outcome of the war. Meanwhile, in 2060 Oxford, the stranded historians' supervisor, Mr. Dunworthy, frantically confronts the seemingly impossible task of rescuing his students—three missing needles in the haystack of history. The thrilling time-tripping adventure that began with Blackout now hurtles to its stunning resolution in All Clear.
About the Author
---
Connie Willis, who was recently inducted into the Science Fiction Hall of Fame, has received six Nebula awards and ten Hugo awards for her fiction; her novel Passage was nominated for both. Her other works include Blackout, Doomsday Book, Lincoln's Dreams, Bellwether, Impossible Things, Remake, Uncharted Territory, To Say Nothing of the Dog, Fire Watch, and Miracle and Other Christmas Stories. Connie Willis lives in Colorado with her family.
Praise For…
---
"Enthralling . . . a story so packed with thrills, comedy, drama and a bit of red herring that the result is apt to satisfy the most discriminating, and hungry, reader."—The Denver Post

"[Connie] Willis can tell a story like no other. . . . One of her specialties is sparkling, rapid-fire dialogue; another, suspenseful plotting; and yet another, dramatic scenes so fierce that they burn like after-images in the reader's memory."—The Village Voice

"Ambitious, and moving . . . with a lovely twist at the end."—The San Diego Union-Tribune
 
"[Willis's] re-creation of wartime England is meticulous, energetic and exhaustive."—The Wall Street Journal
 
"[A] tour de force."—The Charlotte Observer