Doomsday Book: A Novel (Oxford Time Travel) (Mass Market)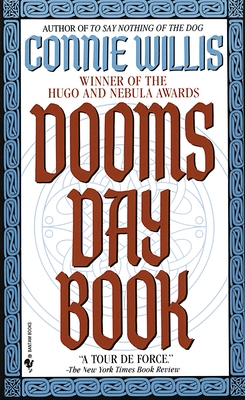 Staff Reviews
---
Fans of Ursula Le Guin and Neil Gaiman will love this near-future time travel gut-punch of a novel! Split between a not-too-far future where historians can travel back (with very carefully planning) in time and 1348 England, Willis takes her readers through two very similar outbreaks of disease and their human toll. As the Black Plague hits England for the first time, a modern historian is stranded in a small village struggling against an enemy they can't see and don't understand. In near-future Oxford, her mentor is desperately trying to bring her home -- while at the same time struggling against a modern pandemic that will seem all too familiar to modern readers. This book will make you cry and cringe and even laugh, I promise!
— From
Abby's Fiction Picks
Description
---
Connie Willis draws upon her understanding of the universalities of human nature to explore the ageless issues of evil, suffering, and the indomitable will of the human spirit.

"A tour de force."—The New York Times Book Review

For Kivrin, preparing to travel back in time to study one of the deadliest eras in humanity's history was as simple as receiving inoculations against the diseases of the fourteenth century and inventing an alibi for a woman traveling alone. For her instructors in the twenty-first century, it meant painstaking calculations and careful monitoring of the rendezvous location where Kivrin would be received.

But a crisis strangely linking past and future strands Kivrin in a bygone age as her fellows try desperately to rescue her. In a time of superstition and fear, Kivrin—barely of age herself—finds she has become an unlikely angel of hope during one of history's darkest hours.
About the Author
---
Connie Willis has won six Nebula Awards (more than any other science fiction writer), six Hugo Awards, and for her first novel, Lincoln's Dreams, John W. Campbell Memorial Award. Her novel Doomsday Book won both the Nebula and Hugo Awards, and her first short-story collection, Fire Watch, was a New York Times Notable Book. Her other works include To Say Nothing of the Dog, Bellwether, Impossible Things, Remake, Uncharted Territory and Miracle and Other Christmas Stories. Ms. Willis lives in Greeley, Colorado, with her family and is hard at work on her next novel, Passage.
Praise For…
---
"A stunning novel that encompasses both suffering and hope. . . . The best work yet from one of science fiction's best writers."—The Denver Post

"Splendid work—brutal, gripping and genuinely harrowing, the product of diligent research, fine writing and well-honed instincts, that should appeal far beyond the normal science-fiction constituency."—Kirkus Reviews (starred review)

"The world of 1348 burns in the mind's eye, and every character alive that year is a fully recognized being. . . . It becomes possible to feel . . . that Connie Willis did, in fact, over the five years Doomsday Book took her to write, open a window to another world, and that she saw something there."—The Washington Post Book World