The Looming Tower (Movie Tie-in): Al-Qaeda and the Road to 9/11 (Paperback)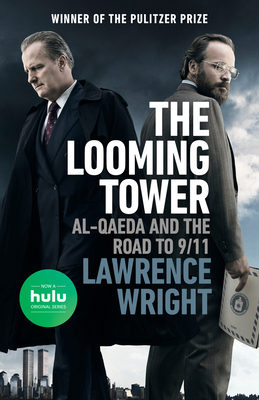 $17.00
Not Available from Us
Description
---
The bestselling, Pulitzer Prize-winning account of the history of 9/11: the basis for the original Hulu series starring Alec Baldwin, Peter Sarsgaard, Jeff Daniels, and Tahar Rahim.

A gripping narrative that spans five decades, The Looming Tower explains in unprecedented detail the growth of Islamic fundamentalism, the rise of al-Qaeda, and the intelligence failures that culminated in the attacks on the World Trade Center. Lawrence Wright re-creates firsthand the transformation of Osama bin Laden and Ayman al-Zawahiri from incompetent and idealistic soldiers in Afghanistan to leaders of the most successful terrorist group in history. He follows FBI counterterrorism chief John O'Neill as he uncovers the emerging danger from al-Qaeda in the 1990s and struggles to track this new threat. Packed with detailed information and a deep historical perspective, The Looming Tower is the definitive history of the long road to September 11.
About the Author
---
Lawrence Wright graduated from Tulane University and spent two years teaching at the American University in Cairo, Egypt. He is a staff writer for The New Yorker and a fellow at the Center on Law and Security at New York University School of Law. The author of five works of nonfiction—City Children, Country Summer; In the New World; Saints and Sinners; Remembering Satan; and Twins—he has also written a novel, God's Favorite, and was cowriter of the movie The Siege. He and his wife are longtime residents of Austin, Texas.
Praise For…
---
"Powerful and important . . . a history of a man and a movement, replete with the accidents of history and historic inevitability." —Kevin Horrigan, St. Louis Post-Dispatch

"Don't read The Looming Tower in bed. This book requires a straight spine and full attention . . . The reporting is so good that it will matter in 100 years. Wright's determined, disciplined work has made his book indispensable. " —Karen Long, The Plain Dealer

"A page-turner . . . encompassing religion, politics, economics and more. If you've been meaning to sharpen your understanding of what all led up to September 11, 2001, then Wright may have written just what you've been waiting for." —Tom Gallagher, San Francisco Chronicle

"Brilliant . . . describes the contorted intellectual journey that has taken place among some Muslims which allows a holy book that appears to condemn suicide and the killing on innocents to be used to justify catastrophic terrorism." —Stephen Fidler, Financial Times


"A magisterial, beautifully crafted narrative . . . This focus on character, along with Wright's five years of fierce on-the-ground reporting (he lists 560 interviewees), pays off."
—Daniel Kurtz-Phelan, Los Angeles Times

"Deeply researched . . . immaculately crafted."
—Peter Bergen, The Wall Street Journal

"What a riveting tale Lawrence Wright fashions in this marvelous book.  'The Looming Tower' is not just a detailed, heart-stopping account of the events leading up to 9/11, written with style and verve.  [It's] a thoughtful examination of the world that produced the men who brought us 9/11, and of their progeny who bedevil us today.   The portrait of John O'Neill, the driven, demon-ridden F.B. I. agent who worked so frantically to stop Osama bin Laden, only to perish in the attack on the World Trade Center, is worth the price of the book alone.   'The Looming Tower' is a thriller.  And it's a tragedy, too."
–Dexter Filkins, The New York Times Book Review cover

"Dozens of intricately reported books about 9/11 are already available; I had read perhaps half of them [before] starting The Looming Tower. But Lawrence Wright's book is my new touchstone. None of the previous books led me to say 'Aha, now I think I understand' as frequently."
—Steve Weinberg, The Boston Globe

"A magisterial, beautifully crafted narrative . . . This focus on character, along with Wright's five years of fierce on-the-ground reporting (he lists 560 interviewees), pays off." —Daniel Kurtz-Phelan, Los Angeles Times

"Deeply researched . . . immaculately crafted." —Peter Bergen, The Wall Street Journal

"A searing view of the tragic events of September 11, 2001, a view that is at once wrenchingly intimate and boldly sweeping in its historical perspective . . . a narrative history that possesses all the immediacy and emotional power of a novel, an account that indelibly illustrates how the political and the personal, the public and the private were often inextricably intertwined."
–Michiko Kakutani, The New York Times

"Important, gripping . . . One of the best books yet on the history of terrorism."
—Publishers Weekly, starred review

"Lawrence Wright provides a graceful and remarkably intimate set of portraits of the people who brought us 9/11. It is a tale of extravagant zealotry and incessant bumbling that would be merely absurd if the consequences were not so grisly."
—Gary Sick

"Lawrence Wright's integrity and diligence as a reporter shine through every page of this riveting narrative."
—Robert A. Caro

"A towering achievement. One of the best and more important books of recent years. Lawrence Wright has dug deep into and written well a story every American should know. A masterful combination of reporting and writing."
—Dan Rather

"Comprehensive and compelling…Wright has written what must be considered a definitive work on the antecedents to 9/11…Essential for an understanding of that dreadful day."
--starred Kirkus review