The Return of the Soldier (Dover Thrift Editions) (Paperback)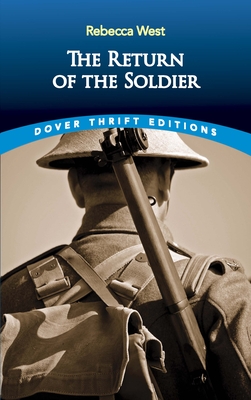 $5.00
At the Store Now
(Due to distributor limitations, sales of this book are final - it cannot be returned to us.)
Description
---
"An authentic masterpiece." -- The North American Review Returning to his stately English home from the chaos of World War I, a shell-shocked officer finds that he has left much of his memory in the front's muddy trenches. The three women who love him best anxiously await his arrival: the thoughtful and intuitive cousin who narrates the story, the lovely wife he cannot recognize, and the woman with whom he shared a summer romance 15 years ago.
Rebecca West's novel depicts neither battles nor battlefields. This remarkable tale takes a searching look at the far-reaching effects of the first modern war on a sheltered society. The Return of the Soldier effectively and memorably captures the spirit of England in the throes of unwelcome change. It is a penetrating view of the nation's shifting class structures and offers a sensitive portrayal of individuals torn between nostalgia for their irretrievable past and acceptance of their conflicted present.
About the Author
---
Dame Rebecca West (1892-1983) has been called "the world's number one woman writer," "the greatest woman since Elizabeth I," and "a strong contender for woman of the century." She was a fiery suffragette and socialist in her youth and by her 30s she was a world-famous journalist and political analyst as well as a distinguished novelist. During her long, prolific career she associated with the 20th century's most important thinkers and writers. West's works include the magisterial history and travelogue of Yugoslavia, Black Lamb and Grey Falcon; studies of the Nuremberg trials and World War II British traitors in A Train of Powder and The Meaning of Treason; the modernist World War I masterpiece The Return of the Soldier; and the autobiographical Aubrey family novels, a trilogy subtitled "A Saga of the Century" -- The Fountain Overflows, This Real Night, and Cousin Rosamund.